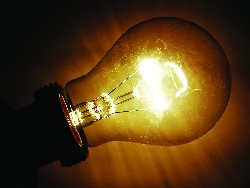 If your powers bills are going through the roof here are four common traps to avoid when considering changing electricity or gas suppliers.
If you live in the ACT, NSW, Queensland, South Australia or Victoria you can choose who you buy your gas and electricity from.
Unfortunately that choice comes with the need to be vigilant about some of the tricks commonly used by energy providers to trap you in contracts that may not be as good as they look. Here's what you should look out for when negotiating a better deal on gas, electricity or solar.
Pushy sales tactics
Door-to-door and telephone sales are common practices in the energy business but according to the ACCC there are certain things that energy company sales people should not do when they telephone or come to your door.
You shouldn't have door knockers after 6pm and before 9am on weekdays and not at all on Sundays and public holidays. You shouldn't get calls from sales people after 8pm and before 9am on weekdays, after 5pm on Saturdays and not at all on Sundays and public holidays.
You are under no obligation to tell sales people about your current energy arrangements, show them bills or tell them how much you currently pay. You shouldn't have to ever sign something to get more information from them or accept a deal on the spot.
You should be able to ask for confirmation of the deal in writing. There should always be a cooling off period during which you can cancel the contract without penalty. For more information visit www.aer.gov.au. Each state also has an energy or energy and water ombudsman service to deal with complaints.
Contract confusion
According to the ACCC there are two types of energy contract: standard contracts, set by the government or an independent regulator in ACT, NSW, Qld, SA and in Victoria standard contracts are set by energy retailers; or market contracts, which are set by the energy retailers.
Market contracts can include price discounts, non-price benefits, different billing periods, different payment terms and periods, fixed terms and fees and charges including establishment and exit penalties.
Different retailers may have a series of different market contracts for various durations with various "deals". This can make it rather difficult to compare deals.
For instance, according to Alan Belkin, founder and CEO of Electricity Wizard, some companies will offer 10% off the price of electricity per kilowatt hour but some also guarantee that they will not raise their rates above CPI within the contract period. If they do increase their prices beyond inflation during your contract period and there is a price guarantee in place you will be free to change providers without penalty.
Other retailerss do not offer that price guarantee. They may offer an initial rate that sounds brilliant but once you've signed your three-year contract there is nothing stopping them from putting their rate up and there may be heavy exit fees if you want to move to another provider before the end of the three year contract.
The ACCC says it's essential to shop around for energy deals and compare contracts closely before signing.
Direct debits
Belkin says another area consumers need to check carefully is direct debits. Sometimes energy retailers offer additional discounts if you are prepared to enter a direct debit arrangement and have your bill automatically debited from your bank account.
For example, Belkin says one retailer commences the direct debit arrangement by billing you for the first month in advance and the amount they debit is based on your established usage pattern on previous bills.
Smart meters
There are several consumer campaigns under way about the roll out of smart meters in Victoria based on their short-comings and reports that they have increased some consumer's bills by up to 300%.
Smart meters are a digital alternative to the traditional electricity or gas meter that can be read remotely so energy providers can do away with the expense of meter readers. They also allow energy providers to apply different rates at different times of the day. This may mean you are using more energy during periods that have higher charges per kWh without realising.
Sometimes switching to a solar PV system may involve the installation of a smart meter without you knowing so check with the installation company before going ahead with your