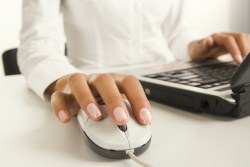 Unfortunately, the Internet is a place where you can say goodbye to your dollars as quickly as you can say hello. YMM highlights the obvious and not-so-obvious ways of losing money online.
Pay for a "free" product
Apart from the traditional Nigerian scams, you can also end up paying ridiculous prices for "free" or "cheap" ringtones. The same goes for "free" holidays, "free" product trials and "free" downloads.
Although it's advertised as "free", you somehow must supply your credit card and bank account details in order to receive your prize. These are usually advertised without any legal information such as copyright statements or terms and conditions. Oh, and it usually turns out the product itself is non-existent.
If you want to take a proactive approach, visit SCAMwatch, the government watchdog to keep up-to-date with the latest scamming trends.
http://www.scamwatch.gov.au/content/index.phtml/tag/Scamwatch/
Set up an ad-free website
You may think the website you just bought is too classy for an ad, and can just survive on its wonderful content alone. The truth is, just like television networks can't survive without accepting ads, websites won't receive any traffic and revenue without providing some ad-space.
Spread yourself too thin
Unless you're unemployed, you might find you don't have enough time to put in the effort into managing your eBay listings and three websites. As a result, you may not be earning those dollars you dreamt of, because you're not giving enough attention to each project – whether it's researching, writing or keeping an eye on what's been bought or sold. Unfortunately, it's tempting to start working on every new idea that comes to you.
Spend a fortune on website design
As someone just starting out in the online game, you're willing to fork out hundreds for a designer to make your website look slick and attractive. If BHP can do it, why can't you?
However, there are low-cost ways to create a fresh-looking website – including using a free web host. It might look a little generic at first, but it makes sense to re-invest in web design after you've made some profit.
Paying to be paid
The idea of being paid hundreds or thousands to do simple tasks at home seems too good to be true. You might be promised easy cash by completing an online survey or starting a 'work-from-home' job, such as data entry or assembling a product. Unsurprisingly, the only way to receive such alluring income is by providing your bank account details. As SCAMwatch warns, these job offers are commonly pyramid schemes.