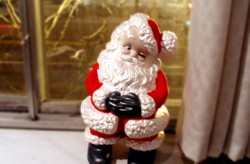 They don't call it the silly season for nothing. YMM highlights seven sure ways to waste your cash this Christmas.
Expensive decorations
It's widely acknowledged that the price of fancy ornaments will always jack up before Christmas, just as shoppers begin to decorate their home for the festive season. There's no need to buy a new set of decorations every year.
Another undisputed fact is that these same decorations will drop sharply in price from Boxing Day onwards. Be a clever shopper and buy your baubles and tinsel from December 26th, in preparation for Christmas 2012.
Paying with plastic
In the spirit of buying gifts for everyone you can think of, the credit card is a tempting payment option. However, if you're unable to pay your debts, you'll start the New Year with a dreadful debt hangover. By sticking with EFTPOS and cash, you cannot go over your spending limits.
Christmas hampers
Food and gift hampers are incredibly popular this time of year, although they are without great value. For example, a Chrisco hamper was recently found to be 24% more expensive than purchasing the same items individually from an IGA supermarket, whilst Hamper King is 36% pricier.
Christmas scams
Apart from the retail sector, scammers also get a kick out of Christmas. At this time of year, the most notorious scammers relate to holiday accommodation and flights, charity, online shopping and parcel delivery services. These types of scams will link their alleged product or service to the holiday season.
Charity Christmas cards
You buy charity Christmas cards with good intentions but it may surprise you to learn that several such cards only transfer one-tenth of their proceeds to the advertised charity.
Card producers are legally obliged to state exactly what proportion of their profit they donate to the charity. Keep your eyes peeled for this if you want to put your compassion to good use; don't just fall for the charity brand printed on the product.
Buying gifts for everyone
As December progresses, your list of gift recipients is likely to grow. Before you know it, you've obligated yourself to buy something for your cousin's brother-in-law. Chances are that the people on the tail-end of your Christmas shopping list are those you don't know too well and unlikely to pick out the perfect gift for them.
According to eBay, Aussies have spent over $500 million on buying unwanted gifts, so don't choose to waste your dollars this time of year.
Snapping up a photo with Santa
Attention, parents: there's no need to sit your kid on the lap of a scary Santa at Christmas. Just like having professional shots taken of your little ones, a photo with Santa is an unnecessary purchase from the local shopping centre; not to mention tacky and clichéd.
--Stephanie Hanna