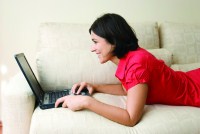 The days of making a trip to the cinema armed with your large-size popcorn are long gone. The Internet is now the gateway to watching new release films as well as the classics.
If you want to check out George Clooney from the comfort of your own home and within legal boundaries, check out these sites
Quickflix
Quickflix is an online movie rental service where you order the rented movies online and have them delivered to your door within a few business days.
This website has a fairly large variety of films and TV shows, boasting 55,000 titles including the new releases. There's a number of ways to browse the site and customers can rate and review the movies they've seen.
There is a two-week free introductory offer, so expect the fees to kick in immediately after your trial has finished. For $23 per month, you can rent as many films or TV shows as you'd like.
Some sweet conditions include no late fees, no postage fees and no contract – there is no cancellation fee, unless you don't return the discs within seven days after calling it quits.
BigPond Movies
Unlike Quickflix, BigPond Movies allows you to legally download films and TV programs. As with Quickflix, the newest titles were released in cinemas about six months earlier.
Although this service is run by BigPond, you don't need to be an existing BigPond customer to sign up to BigPond Movies.
In terms of price, there's no cancellation or joining fee. Customers pay $2 for every TV episode, $4 for a classic film and $6 for a new release movie. You can also download music videos for $3.95.
However, the data usage limit of BigPond Broadband customers will not be affected by using BigPond Movies. For everyone else, it's important to keep tabs on how much data is being used to download each film, so that you're not paying excessive fees for going over your data usage limit.
-- By Stephanie Hanna