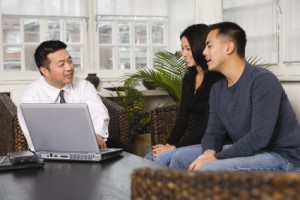 If ASIC says most financial planners give "woeful" advice, can you trust other 'go-betweens' like mortgage brokers?
There are so many lenders and mortgage providers in the market these days that using a broker can help you to find the best deal. It's just a matter of finding a broker who is truly up to the job and understanding their limitations.
A mortgage broker should be a home loan specialist who is able to negotiate with a range of lenders and mortgage providers on your behalf to find the best deal for your situation. A good broker will also help you manage the application and settlement process.
However, brokers do have limitations. A broker will not have access to information about every loan available on the market. Because they're paid on the basis of a commission from the lender, they may not include loans from credit providers who don't pay commissions.
Most brokers will have a preferred list of lenders and loans on their books and they will only recommend loans from that product. That's why it pays to do your own shopping around, even if you do decide to use a broker. At least then you'll be certain that you haven't missed a loan that's cheaper or has features more suited to your needs.
Find out how they're paid
Most brokers will be paid a commission by the lender when they sign you up to a loan. Not all lenders pay the same commissions and this can influence the recommendations you receive from some brokers. For example, a broker may be inclined to recommend a loan because that lender pays a higher commission, even if another loan is in your best interests.
You are within your rights to ask the broker how much he/she will earn from a number of loans before you decide which one to commit to.
Are they licensed?
Brokers have to be licensed under Australian credit laws. To check that your broker is licensed check the Australian Credit Services Licensee Register or the Australian Credit Representatives Register (use google to find the websites).
Broker or lender?
According to ASIC some brokers promote themselves as being loan providers. Make sure you understand whether or not you're dealing with a lender or a broker before committing to a loan.
Be prepared
The best way to make sure you find a good mortgage broker is to do some preparation first. Think about what you need in a home loan. Consider how much you can afford to repay. Make sure your credit record is in good order. Think about the type of property and the type of loan you are looking for. Keep an eye on the marketplace to make sure you know what a good current mortgage deal is. If you walk into your first meeting with a broker as organised and prepared as possible it won't take long to get an accurate impression of whether you're dealing with a professional.
-- By Jackie Pearson