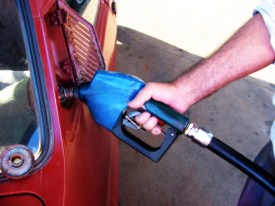 Fuel discount dockets may not really be saving you dollars at the pump.
Earlier this month, the Australian Automobile Association (AAA) released findings which claimed the eight cents per litre 'double discount' off fuel purchases offered by Coles and Woolworths actually led consumers to pay more for their petrol late last year.
"The average margin on fuel actually increased by two cents per litre during the promotion period and in many cases it was even higher," AAA executive director Andrew McKellar said earlier this month.
The AAA said those in Sydney, Brisbane, Melbourne and Adelaide were most affected.
"The reality is that people were not getting an eight cent a litre saving at all and on some days there was actually no benefit at all for those who had a discount voucher," McKellar said.
Given Coles and Woolworths control about 45% of the fuel market, the AAA claimed the two businesses were colluding and duping customers.
There were also calls by Independent senator Nick Xenophon and the Motor Trade Association (SA) to sack the Fuel Commissioner, Joe Dimasi.
The Motor Trade Association (SA) claimed it put forward evidence of illegal pricing behaviour to Dimasi in December 2010.
Woolworths disagreed with the AAA's findings, arguing the company does not set prices in the market, but follows movements made by competitors.
"Our outlets change prices after moves by competitors in the local marketplace. If there has been a general movement in petrol pricing across the market, this will have been driven by petrol retailers other than Woolworths," said Woolworths' spokesman Benedict Brook.
Similarly, Coles spokesman Jim Cooper argued that Coles' pricing of fuel follows the changes in the retail fuel market.
"Our fuel discounts are genuine discounts on the retail fuel price, they are not subsidised by lifting prices on either fuel or groceries," said Cooper.
The Australian Competition and Consumer Commission (ACCC) rejected the AAA research, by claiming their own monitoring of the retail fuel market did not find any link between Coles and Woolworths profit margins and the fuel discount dockets.
"It is not Coles and Woolworths that lead the price cycle; it is the oil majors," Brian Cassidy, CEO of ACCC, said earlier this month.
-- By Stephanie Hanna