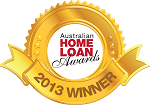 ME Bank
Variable rate loans are a lender's bread and butter; if you don't have a competitive variable rate home loan, you are not competitive in the lending market, pure and simple. These products are where a lender's true colours come to the fore; a mix of good rates and attractive features are required, as well as a fee structure that is friendly to the borrower, while ensuring it remains worthwhile to the lender.
For the last couple of years, ME Bank has enjoyed great market share with its Member Package Ultimate Offset Account. This offers a low headline and comparison rate of 5.88%, in addition to features such as: maximum LVR of 95%; no application fees; 100% offset; direct salary crediting; unlimited free redraws; and the option to fix rates for one, three, or five years. With a minimum loan amount of $50,000 it also provides the flexibility that is lacking in many packaged loans, which can often have lower limits as high as $250,000.
In addition to this product, ME Bank has other competitive loans, such as the Standard Home Loan, Interest Only Investment Loan and the Ultimate Offset Account (without member package).
"ME Bank has offered a home loan rate for members of eligible super funds and unions below that of the Big Four every month since we became a bank," says Jamie McPhee, ME Bank CEO. "Since November 2010, we have passed on more rate decreases than the major banks. We offer the same rate to everyone, regardless of their ability to negotiate or their loan size. Customers want fairer treatment on home loan rates."
The gold medal in the non-bank category went to Loans.com.au, whose Dream Loan Express product features 100% offset and redraws; additional repayments; 95% maximum LVR; available as interest-only and a comparison interest rate of 5.63% for loans with an LVR range of 80–95%.
The credit union category was won by Queenslanders Credit Union; where borrowers can choose between The Original Home Loan and the Queenslanders Ultimate Home Loan. The former requires a minimum borrow of $50,000; offers a comparison rate of 5.97%, free redraws, no ongoing fees,
interest-only option and additional repayments. The latter requires a minimum borrow of $250,000, but offers additional features such as a free mortgage offset, no application or establishment fees, a 10% discount on home and contents insurance and a low comparison rate of 5.76%.