ME Bank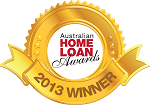 The idea that a mortgage will run its full 25–30 year term is essentially laughable in modern times. Owneroccupiers and investors are constantly on the lookout for refinancing options, and so they should be, with a crowded marketplace ensuring lenders are constantly refining products, offering bonus rates and waiving application fees in a bid to gain advantage over competitors.
Financial professionals recommend you look to refinance your home at least every five years, if not more regularly. This enables you to reduce LVR and access more equity as your property gains value.
Your average refinancer might be a home owning couple or a single, with relatively high total income, and a sizeable deposit ready to go, thanks to the equity in the home they are already paying off.
The overall winner in the best loans for refinancing category goes to ME Bank. This lender offers two suitable products for refinancers: the Standard Home Loan; and the Ultimate Offset Account.
The Standard Home Loan is a principal & interest loan, and features include the option to fix for one, three, or five years, no ongoing fees, an LVR limit of 95%, construction and renovation options, unlimited free redraws, and a variable rate of 6.08% (advertised) and 6.53% (comparison).
The Ultimate Offset Account is also a principal & interest loan, with the same features as the Standard Home Loan, but the added incentives of 100% offset and direct salary crediting are also included, at the expense of construction and renovation options. The interest rate offered is 6.38% headline and 6.40%
comparison.
One of the biggest kickers for ME Bank, however, is the member's package, which can be added to the Ultimate Offset Account for a fee of $395 per year. Borrowers who opt for the member's package are treated to a 0.5% discount on rates, bringing both the headline and comparison rates down to 5.88% per annum. The member's package also includes the waiving of solicitor and valuation fees and a refund on the ME Bank MasterCard annual fee, meaning the extra $395 per year is swallowed up and exceeded by other savings.
"When refinancing, customers tell us they want to make simple comparisons between bank rates over the long term," says Jamie McPhee, ME Bank CEO.
"To keep it simple, we offer our lowest rate from the outset – there's no need
for customers to negotiate to get the best deal. We don't offer honeymoon rates that revert to higher rates later. Our products are straightforward and our customers always know what they're getting."
The other gold medallists for the best refinancing loans category were Ratebusters, among the non-banks, and Queenslanders Credit Union, among the credit unions.