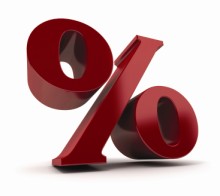 Comparison rates are supposed to help borrowers compare loans but sometimes they fall well short of being helpful. Here are the most important things to consider if you plan on using comparison rates to find the best home loan.
A comparison rate is supposed to be a tool to help consumers identify the true cost of a loan. It's a rate which includes both the interest rate and fees and charges relating to a loan, reduced to a single percentage figure. For example, a bank's advertised interest rate may be 5.49% but its comparison rate might be 6.75%.
Since 2003 comparison rates have legally had to be included in any advertisement for a fixed-term consumer credit product such as a car loan or a home loan.
Different loan amounts and terms produce different comparison rates so it was decided to ensure consumers really were comparing apples with apples that comparison rates used in advertisements needed to be for a typical loan size and term, drawn from a schedule of such sizes and terms.
Heidi Armstrong, director of State Custodians Mortgage Company, says this standardisation means comparison rates typically shown in advertisements are now a bit old-hat because they're based on a loan size of $150,000 over 25 years.
Armstrong says a loan for $300,000 over 30 years would be a much better benchmark and align more closely with how most people now structure their home loans.
She says until the new national credit laws came into effect on 1 January, some lenders were flouting the comparison rate requirements. The good news is the introduction of new Key Fact Sheets essentially work like "a personalised comparison rate calculation".
"People think the comparison rate is giving them the best information but it really depends on their loan amount," she says.
Armstrong argues that for larger loan amounts (such as $600,000 over 30 years) the advertised interest rate becomes a bigger, more important factor to consider because the annual fee, for example, becomes a much smaller percentage of the overall cost of the loan.
Can comparison rates mislead you?
In early January 2012 ASIC forced the Commonwealth Bank to change advertised comparison rates for its Wealth Package loans due to concerns the rates used in ads were incorrect and potentially misleading.
ASIC was concerned CBA's home loan ads promoting its Wealth Package loans didn't include the $350 annual fee in the advertised comparison rate.
When promoting a package loan any fee in connection with a loan to qualify for the advertised annual percentage rate must be included in the comparison rate. Not including all fees and charges results in a comparison rate not reflecting the loan's true cost.
What should you ask your lender?
Armstrong says all consumers should ask lenders for a Key Fact Sheet. The new national credit laws are being introduced in stages and some types of credit provider are not legally required to provide the key fact sheets at this stage, but most are.
ME Bank and the ANZ have useful comparison rate calculators on their websites which enable you to enter your own loan details and compare different loans to ensure you are looking at truly comparable information.
Armstrong says the new national credit laws and ASIC's entry into the credit markets as a regulator means small, less reputable lenders are less likely to be able to use comparison rates to mislead borrowers or "leave out" vital information.
"The new credit laws have delivered a clean up of the industry that is excellent," she says. However, until the new laws are fully rolled out, consumers should take care when basing decisions about home loan selection on comparison rates.
Make sure the comparison rates shown in any two advertisements for different loans are based on the same advertised interest rate and term. Make sure the example is relevant to your own loan size and term. If it isn't use an online calculator or ask the lender for a Key Facts Sheet.
-- By Jackie Pearson