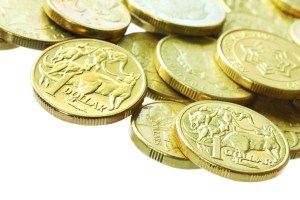 The Aussie dollar hit a record high yesterday, trading at $US 1.108. And while the high is more a reflection of the long suffering greenback, the AUD doesn't look set to retract any time soon.
The message from experts is clear: the AUD is king. So, what does that translate into for those at home? Well we can advise you on the best ways to spend your golden Aussie dollars (whilst keeping your feet on the ground).
Go shopping! Shopping right now is win-win. By going online and purchasing from overseas sellers, you'll save yourself hundreds or even thousands of dollars (Check the latest issue of Your Money on newsstands now with a yellow cover to get the full low down on how to buy a snowboard, car or even a luxury boat from overseas and save big bucks). For the savvy buyer, you can snap up bargain big ticket items, as well as smaller every day products.

Take that well deserved holiday. Since your cash is now worth a whole lot more overseas than it used to be, the time to go on that much needed escape is now. The sky is literally the limit! Even if you can't take time off right now, consider locking in the savings by paying for your trip in full, and go in six months. By going, on holiday in the US or Europe you'll save a fortune compared to a few years ago!

How much your spending $ has increased in value since 2008 against local currencies

Fiji +74%
US +73%
UK +67%
Thailand +55%
Indonesia +46%
Get investing. With the AUD outperforming our US counterpart, now is the time to buy well performing US stocks. By purchasing shares in major international companies, such as Nestle, Pepsi, MasterCard and McDonald's, you will get more global bang for your Aussie buck, and benefits will be multiplied if the A$ starts to slip in value against the greenback
Despite the well documented fears over the US debt ceiling, it's not all doom and gloom. We may not be a giant on the world stage, but the Australian dollar is one of the five most frequently traded currencies in the market.
Peter Switzer from the Switzer Super Report said "the interesting thing is that we know our currency is in favour, and it is now mentioned as an alternative currency because it's quite safe in times when there are serious questions over the security of the US dollar".
Indeed currency experts say we owe the popularity of the AUD to the 3 G's - geology, geography and government.
Geology for our wealth of natural resources; Geography because of our choice position as a trading partner for fast-growing Asian economies with high resource demands; and Government because we have stability, high interest rates, a lack of intervention in the currency markets, and a Western approach to business and law.
Kathy Lien, the New York-based director of global research at Forex dealing giant GFT, said: "It is important to realise that the single biggest reason why the Aussie has performed so well is because the commodity currencies are looked at as safe havens".
"Until the US government reaches a deal to raise the debt ceiling, there is only one direction that the Australian dollar is headed and that is up," she said.