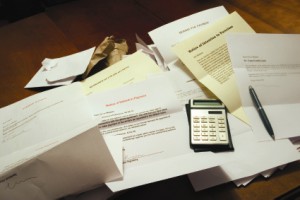 Almost 70% of Aussies are in 'debt stress.' So what can you do if you're in the debt dumps?
A survey conducted by Debt Rescue found 68% of Australians are in 'debt stress,' meaning their ability to repay loans is being hampered by a change in their personal circumstances, such as deterioration in health or a loss of employment.
Debt not only damages your finances, but it can have serious implications for your health and wellbeing.
For 83% of Aussies, the amount of debt they are in causes them to stress. Two-thirds of survey respondents even reported they experience anxiety or feel depressed at the thought of their debt levels.
Most of those surveyed claim their debt situation is taking a toll on their relationship.
However, Aussies tend to let their debt problems lie silently, which does favours for nobody.
"It's such a personal issue, so people don't talk openly about it to their family and friends. We don't want people to know we're not coping," says Rachael Whitton, operations manager of Debt Rescue.
Whitten says the number of people who approach Debt Rescue climbs each year, yet often people decide to take action too late into their situation such as when they lose their possessions.
"We also tend to have a lot of people at certain times of the year, such as Christmas, post-Christmas and at the start of the school year," says Whitton.
How do you deal with your debt?
There are various strategies for managing your debt. In some cases, it may just require developing a budget to build up your repayments and limit your spending.
Debt consolidation involves taking out a single loan with a low interest rate, to help pay off all your other loans such as credit card and unsecured personal loans. However, it's difficult to successfully apply for a debt consolidation loan if you've declared bankruptcy, don't hold down a steady job or have a history of late payments.
A formal Debt Agreement with your creditor is a legally binding option. By explaining your financial hardship, the creditor may give you extra time to pay off your debt, reduce the size of the loan to be repaid, 'freeze' the interest payments. If you don't trust your own negotiating skills, you can use a debt solutions provider or a financial counsellor to broker the agreement.
You need to fit the eligibility criteria, in order to enter a formal Debt Agreement. You must not have had a Debt Agreement in the past decade, your unsecured debts (and your assets) must be less than around $90,000 and your after-tax income needs to be less than about $70,000.
You can also try arranging an informal debt agreement, although the creditor is not legally obliged to stick to the terms.
A personal insolvency agreement works like a Debt Agreement but there is no eligibility requirement that caps the level of debt an applicant has. Personal insolvency agreements are generally aimed at businesses, rather than individuals, says Whitton.
-- By Stephanie Hanna