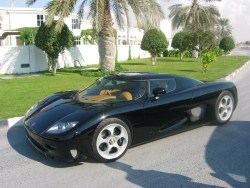 If you dream of being rich, have a purse full of $2 lottery tickets and sit glued to the TV for the tatts lotto results, stop dreaming!
The chances of getting rich from winning first prize in the NSW $5 Jackpot Lottery are 180,000:1, while the chances of winning all seven numbers in a single OZ Lotto game are 45,379,620:1.
Relatively quick ways to become a millionaire do exist, however. They're not as instant as a lottery win and some of them take a bit of elbow grease, but the rewards are worth it.
1. Inheritance
Perhaps the laziest way to boost your wealth, inheritance happens to those of us who were literally born into wealth.
Although Allegra Versace works in the fashion empire with her mother, Donatella, she also came into an inheritance valued over $700m on her 18th birthday. Lucky girl.
If it makes you feel any better, inheritance doesn't always have a happy ending for the heirs. Paris Hilton missed out on much of her inheritance when her grandfather, Barron Hilton, donated 97% of his own fortune (US$2.7bn) to charity.
2. Become an entrepreneur
Mark Harbottle has a net wealth of $40m. How did the 38-year old end up on the BRW Young Rich List? He started up several internet companies such as SitePoint and 99designs.
And multi-millionaire Kelly Baker-Jamieson told YMM how her idea for developing bouquets of fruit has spawned four stores around the country. "I was expecting to spend the first week sending out freebies to media and corporates, but we made about $1,000 in sales," says Baker-Jamieson.
3. Property
Clive Palmer's name has been receiving plenty of airplay lately, but did you know his wealth was born out of the Gold Coast property market during the mid-1970s? Palmer was a millionaire by the time he was 29 years old, from selling property in the area at a thriving time in the local market.
When it comes to property investment, having a strategy in place pays off. Nathan Birch, 26, told YMM he sticks to cash-flow-positive properties spread across NSW and Queensland. "My properties are bringing in well over an average salary in positive cash flow, so I was able to quit work before my 30th birthday," says Birch.
4. Franchising
Operating a business where you don't need to develop your own marketing or product strategy can be an attractive route to becoming wealthy.
Successful franchisee Greg Leslie operates a Battery World franchise in Townsville that generates an annual turnover of $2.8m. His personal wealth currently stands at $3m. "We're not exactly from wealthy backgrounds – we did it all ourselves," says Leslie.
5. Become a best-seller
Books are anything but dead, thanks to e-books. Pen a great story and your wealth can skyrocket. The Harry Potter franchise has pushed JK Rowling into billionaire status.
The instant success of autobiography book and film Eat Pray Love has blessed American author Elizabeth Gilbert with a net worth of $25m.
-- By Stephanie Hanna