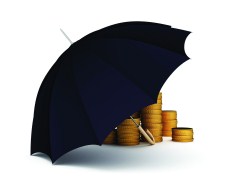 To give you the lighter side of insurance news, YMM is proud to bring you the weird and wonderful things people have paid coin to insure.
1. Body parts
Body parts are a classic item covered by celebrities. Jennifer Lopez valued her ass(ets) at US$1bn, whilst Bruce Springsteen insured his voice for $6m. Ugly Betty's America Ferrara covered her smile for $10m.
Ben Turpin, a silent film actor famous for his crossed eyes, bought insurance in the unfortunate(?) event that his eyes became uncrossed. In 2010 terms, that policy would be valued at about $200,000.
The Rolling Stones' god-of-a-guitarist, Keith Richards purchased cover for his middle finger, valued at $1.6m.
Back home, former Aussie cricketer, Merv Hughes, insured his moustache for $370,000
2. You are NOT the father
For the Van Halen fans, David Lee Roth took out paternity insurance in the mid-1980s. What exactly is paternity insurance? Covering Roth for up to $1m in costs brought on to him when a female fan alleges he is the father of her baby.
"We get all kinds of letters like 'I'm pregnant with your kid', which is just physically impossible," said Roth in a 1985 interview with Rolling Stone.
3. Alien abduction
The Alien Abduction Insurance Company believes the threat of a UFO is very real and will offer alien abduction victims about $10m. Specifically, customers can be covered if they are killed, injured or impregnated by an alien.
4. Injury… to somebody else
Insuring events that happen to you are over-rated. American fantasy football players can take out insurance with Fantasy Sports Insurance in the event that one of their 'players' has become injured, to recoup the cost of their investment in a weakened team.
5. Getting a hole-in-one
Skilled golfers live for the day they achieve a hole-in-one. Tournament providers, on the other hand, cringe at the thought that they actually have to reward the winner with the advertised jet-ski, prize money and car. What's a tournament provider to do? Take out hole-in-one insurance, of course.
Where do the celebrities buy insurance?
If you've ever shopped for an insurance policy, you'll find that providers normally limit their coverage to your car, home and contents, health, life, income and travel. So who do celebs go to, when they want cover to their prized assets?
Lloyds of London is a proud "specialist insurance" provider to the stars, including Springsteen, Hughes and Bob Dylan. They have an Australian office, although the local Lloyds specialises in cover for businesses.
What cover do you really need?
There are definitely some types of insurance that you shouldn't be without, including cover for your home buildings and contents, your car and other valuable assets. If you have dependents and debts it is also worth purchasing life insurance and income protection insurance. Use the
life insurance calculator
to find out how much it will cost to insurance your life.
-- By Stephanie Hanna