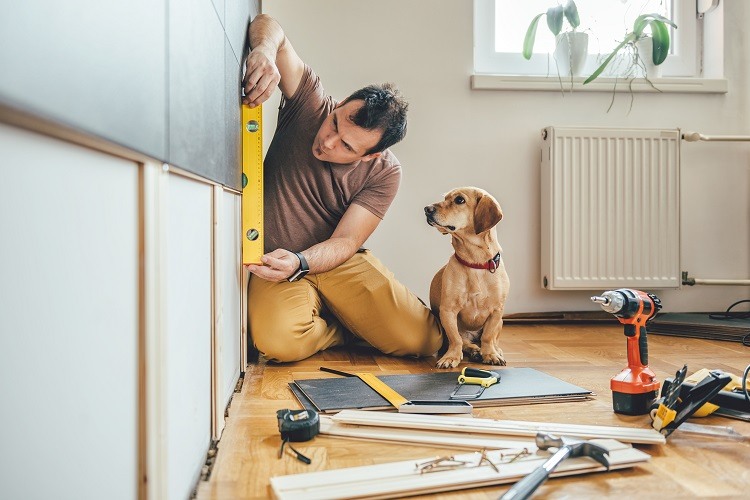 Our homes are the biggest assets that we have, in terms of both monetary investment and also for personal living. There are a range of simple steps you can take to increase the value of such an asset, whether it's to upgrade your own living space or to bump up your property appraisal for an upcoming resale. Here is a range of quick and easy solutions that won't cost a fortune, and won't have you falling into a long-term renovation project. Any of these tips can increase the value of your home and you can get started straight away!
1. Plant some trees
If you have the space to do so, planting trees outside your house has been proven to increase property value. Planting a tree outside your home can increase the value as much as a new bathroom, but unlike such a challenging project it can be done with barely any time or monetary investment. A localised study in Oregon has shown that having trees on a property increases the property value at an average of $8,870 USD, but this is a worldwide trend. The same study shows that trees can minimise the time that a house spends on the market by 1.7 days, so the significance in resale is apparent.

A range of environmental benefits also arise from having trees on your property, such as noise reduction, privacy and help with storm drainage. Depending on placement, they can also reduce air conditioning and heating costs by blocking the home from harsh weather conditions such as sun and wind. Some ways to maximise the effect of trees are:
- Plant deciduous trees on the north side of your house, so that the leaves will provide shade in summer but will fall in winter to let the sunlight through and provide warmth
- Plant evergreens to the south side of the house to retain warmth
- Don't plant any trees below power lines

It is important to remember, however, that although planting trees is quick and painless, they will require a degree of regular maintenance to ensure their successful growth - and the growth of your property value. Another consideration would also be the neighbours - their property value would also increase if they live within 30m of the trees, and any trees that grow over property borders are worthy of discussion to avoid having to go through the local council
2. Do a full deep clean
Seems like the ultimate simple step, but doing a thorough clean of your entire house can do wonders for its value. You may already have a pretty spotless home (in which case good work, keep it up!) but family homes have a tendency to get messy in the blink of an eye and dirt can get ingrained in all the nooks and crannies that you may not even be aware of; the bathroom and kitchen are often the victims.
A benefit of investing your time to perform the clean yourself has the added bonus that as you go through the house, you can also do an audit and make a list of all the other little things that may need repair or refreshment - things that will be much easier to do when the space has been cleaned. However, if you're short on time it's also relatively inexpensive to hire a local professional cleaner, who can go through thoroughly and transform your house in a matter of hours. After the big job is done, you can commit to a regular cleaning and tidying routine to preserve this improvement.
3. De-clutter
Another seemingly simple one, but minimising the clutter in your home is a sure way to maximise your visual space and visual appeal. Clutter can so easily get out of hand, especially in a home with pets or children, but taking the time to tidy and de-clutter your house makes it appear larger, cleaner and more open, which makes it more attractive to potential buyers and thus increases its value. From this resale perspective, the potential buyers can imagine their own belongings, families and themselves inside it. Decluttering will cost you nothing, keep the house easier to clean (a bonus for both living and selling purposes) and aims to visually increase the space of the house.
4. Use clever storage solutions
It's easy enough to get through the clean and de-clutter; the hard part is keeping it that way! In any kind of property, from a compact city apartment to a big suburban house, finding a place for everything and maintaining cleanliness and visual appeal can be a difficult task.

Containers and storage systems play a huge part in keeping these things organised. Many furniture fittings these days are designed to maximise all the space available, such as large drawers or crates that fit underneath the bed, manipulating hollow space to your advantage. Storage units that use all available wall space, and particularly the space just below the ceiling which is often neglected. To avoid the room feeling too cramped with the storage systems, using large mirrors increases light and creates the optical illusion of more space.

Electricity cords and cables are other items that are often difficult to maintain and keep organised as they favour chaos and tangle, but simple little additions such as velcro, tape or cable ties can help keep these in order, as well as small hooks on the undersides of tables to keep all the wires out of sight.

A whole range of nifty tricks and hacks for home organisation can be found here, making living easier and increasing the value of your home through the added creation of space.


5. Give it a fresh coat of paint
To revamp a room, nothing is more effective than a good paint job. Whether you choose to save some money and do a DIY project or whether you hire a professional, it is a low-cost time-effective way to completely refresh the interior of a room, or of the whole house. Even to hire a professional can only cost a few hundred dollars per room, and if you narrow down the one or two rooms that need the most work it bumps up the value of the entire house. Look for rooms that may have particularly bright walls or bad pervious paint jobs, as these make the most effective targets. Rooms like the kitchen and bathroom can always benefit from a new coat of paint as well, and if you're lucky the other rooms may only require a quick touch-up.

Choosing colours is something to be wary of, and colour swatches can often look very different when painted over an entire room. To maximise future resale potential, stick to a neutral colour palette of whites, greys and beiges and try not to tip too dark on the scale, as the lighter colours reflect more light and help to create space - that magic word that buyers are looking for!

If you want to get a little creative you could add a carefully planned feature wall in a different colour or texture, but otherwise you can add splashes of colour and personality to the room with non-permanent fixtures such as furniture, throws, mirrors and artwork. This is relatively inexpensive and allows you to make the space your own, while also maintaining a basis for future buyers.

If you decide to undergo the paint job yourself, make sure that the new paint does a good job of covering up any old paint. You can also try painting the ceiling a shade lighter than the falls for a brighter feel. While you're at it, you can also refresh any old furniture with a new coat of paint as well to complete the look.


6. Work on your curb appeal
The classic phrase 'you only get one chance to make a first impression' couldn't be more spot on when it comes to your house. Whether for an appraiser, prospective buyer or even just a friend visiting, that first impression is key and it comes from the exterior of your house. First step is to go across the street and look back at your house to assess its curb appeal. Not only as a standalone, but also in comparison to other houses on the street and in the neighbourhood; how does it measure up? Make a list of any improvements you could make or issues you need to fix. Some common ones are missing roof tiles, broken downspouts and cleaning out roof gutters.

After any little repairs, freshen up the exterior of the house by washing any exterior windows and if necessary, applying a fresh coat of paint. This immediately makes the house look well-maintained from the outside. When it comes to exterior painting, if you're going to do a DIY job, make sure you choose quality paint and read the instructions before you begin - exterior painting needs to consider a lot more than interior painting and the way that the paint interacts with the elements, and requires specific preparation of the surface and certain air temperatures. Paint from top to bottom on a completely dry surface, and paint on the shaded side of the house to avoid the paint drying too quickly, as this can result in an undesired flaky texture. For a range of other top tips on exterior painting, see here.

For maximum curb appeal, pay special attention to the front door. It is the entrance to your home and reflects a certain standard, so a feature gloss or colour to contrast with the rest of the house and some updated fixtures can go a long way. The same can be said for the garage door, especially if it is front-facing. Some other final touches to consider could be a new house number or mail box plaque to finish off the job.

7. Tidy up your yard
This one goes hand-in-hand with curb appeal, because a well-maintained front garden is vital for a good first impression, but backyards are well worth caring for as well. Regular mowing and clean-cut edging can keep the lawn at bay, and a sprinkler system can save you time and effort in keeping everything green and well-looked after. When raking up any fallen leaves, make sure the ground is dry because otherwise you can risk accidentally ripping grass out from the roots.

When it comes to planting a garden bed, try to keep it natural by planting native plants that don't require much more maintenance than the natural temperature and rainfall of your area already provide. Add a layer of mulch to flowerbeds to help smother any weeds that may be growing, trim overgrown shrubs or hedges, and make sure that any pathways or stepping stones are swept and clean without any moss or weeds growing around.

As for any outdoor furniture, some bright chairs or cushions can liven up the yard and make it appear more inviting as a social space. Any old furniture might be able to use a new coat of paint or varnish. Exterior lighting keeps the area usable, and lining any pathways with solar lights also maintains safety at nighttime.


8. Improve your lighting
Bad lighting is an easy undoing of a good house, and you want to show off your home in the best light, so eliminating dull or harsh lighting is crucial in upping property value.

Lighting should vary from room to room, as there are different needs and expectations. For most rooms in the house, from dining and lounge rooms to bedrooms, adding a dimmer for control over the lighting is a great way for adjustable ambience and visibility and is also energy efficient. Lighting in the bathroom however, should be kept warm and bright with plenty of visibility. Instead of overhead lighting which can be quite harsh, try lighting around the vanity mirror on the wall to prevent any heavy shadowing. It's also particularly important in the kitchen, for both visual and safety purposes. Instead of overhead lighting, consider a tracking option that will allow you to designate light to different areas of the kitchen as is necessary. LED under-cabinet and under-table lights are also great for brightening up from different directions and eliminating dark corners.

Natural light is also an important factor not to be underestimated. Maximise the natural light flow through your house with clear windows, drawn-back curtains/blinds, and mirrors in rooms to reflect the natural light and give the appearance of more windows.
9. Get new floors
An upgrade in flooring can change a house from outdated to modern, and although one of the more costly solutions on this list it's also one of the most rewarding. Consider hardwood or tiled flooring rather than carpet; studies suggest that hardwood and/or tile floors can have a return of up to 5-6 times the initial investment. This is a change in trends and reflects modernity within the house, whereas the popularity of carpet flooring has been decreasing over the last few decades. However, carpet is still a popular option for bedrooms due to comfort, warmth, and also its ability to reduce noise - although if you prefer hardwood floors instead, rugs in the bedrooms can provide similar benefits.
10. Ensure energy efficiency
This one can be tricky, because often the more energy-efficient options are more costly than their alternatives. If this is a concern try to look at it in the long-term, as choosing bulbs and appliances with a higher energy star rating are known to save on energy bills in the long run after installation.

In the bathroom, check your showered for hard-water deposits and save money on your water bill by replacing fixtures such as taps, toilets and shower heads in favour of low-flow options. Make sure all windows and doors have proper seals to maintain heating and cooling energy within the house. Change air conditioning filters regularly, and you can even install ceiling fans to use as an in-between option instead of using air con every time. You could also replace outdated insulation with newer options such as spray insulation for sealing cracks and holes. For the really energy-conscious, you could also book a home energy assessment for a professional to come and audit your property, and they can give recommendations for your specific household on what energy improvements can be made or upgraded.

An energy-efficient household is a big selling point and increases the value of your home, as well as saving you money and protecting the environment. Make sure that any adjustments you may need to make at any time will also improve your energy efficiency, so you can improve bit by bit. To promote energy efficiency, sometimes grants can be available for energy-reduction improvements, and there are also a range of special mortgage options available for environmentally-conscious homeowners.


11. Provide a technologically sound house
We never know where technology is going to take us in the future, so it's important to keep your house updated with technological trends. Energy-efficiency is a start, but the next is to consider automated controls for elements such as lighting, heating, air conditioning and any alarm systems. As far as inner wiring is concerned, include an extra electrical conduit in anticipation for future internet, data or telecommunications requirements. This will make any future installations easier and less of an expense. Try to look ahead and anticipate the needs of future occupants, and do your best to avoid any technological obsolescence.

12. Eliminate odours
As much as we love them, pets can bring a certain smell to our homes that can decrease the overall value of the house. It's a noticeable element that visitors and prospective buyers will remember about the house, so it's important to eliminate these smells wherever possible. Shy of sending the pets away (which is a common practice when trying to sell), there are other things you can do to keep the smells to a minimum.

Keep your pets and any of their toys, beds and accessories as clean as possible, and buy easy-to-clean options in the first place (especially with bedding). Avoid letting them sit on furniture wherever possible, and when required you can use a simple sponge with duct tape to remove any hair that has been shed. Baking soda is great for combatting odours, so sprinkle over carpet before vacuuming and add to any litter trays, which should be kept to one per animal.

Pets aren't the only cause of unpleasant smells, but they can be the trickiest to keep at bay. Other smells can arise from things like mildew or mould, especially in the bathrooms, which create a musty scent. Maintain a good air flow throughout the house, air regularly or even invest in a dehumidifier to avoid this, but any physical mould will need to be tackled hands-on with cleaning liquids. Depending on the spread of the mould, you may need to call in professionals because mould can mean more than just an unpleasant smell, it could also mean damage to the structure of the house. Natural odour neutralisers such as ONA gel can be useful, but things like incense and scented candles will only cover up temporarily, and should be used after eliminating smells properly.


13. Know your own limits
Last but certainly not least, it's important to know where your skills and capabilities end. Taking on home improvements DIY style is tempting, especially when it saves money, but there comes a point where you're better off to call in the professionals. Choose your DIY projects carefully, analysing the skills and tools that you possess and their adequacy for the particular task, and also weigh up the time and effort required to make it worthwhile. You may be able to hire contractors to do the heavy duty tasks, and then take on the small fixtures and paint jobs yourself.

As a general rule, steer clear of plumbing or electrical work unless you have specific skills or knowledge in these fields. An amateur is more likely to cause further damage to these internal systems that will then require a significantly greater cost to repair, not to mention bring down the value of the house. It might be worth calling in a plumber and electrician to assess the internals and fix any small issues such as loose wires or water leaks. For projects that you do decide to DIY, make sure you have access to the right tools and products to get the job done properly.