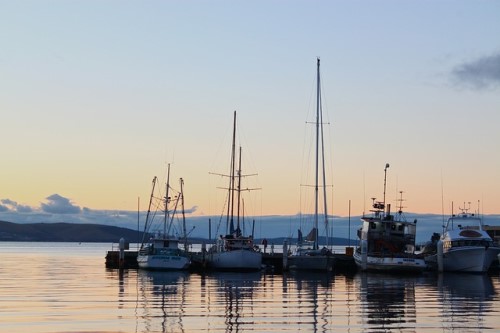 While median house prices continue to climb in Sydney and Melbourne, two very different stories are unfolding in two of Australia's least talked-about capitals, Darwin and Hobart.
Just four years ago, Darwin enjoyed unprecedented price growth, fuelled largely by the resources boom, and was trailed only by the Sydney and Melbourne property markets. At the end of 2013, Darwin boasted a median house price of $540,000, according to CoreLogic.
At the opposite end of the country and of the value spectrum, Hobart languished at the bottom of the list, with a median house price of only $330,000.
Four years down the road, and the tables have been turned.
New figures from CoreLogic indicate that the dramatic correction in the Darwin property market is continuing. Currently, the capital of the Northern Territory has the third lowest median house price in Australia.
While prices in Sydney and Melbourne continue to ascend, reaching medians of $880,000 and $675,000 respectively in the June quarter, prices in Darwin are virtually in free fall.
While the tropical capital trailed Melbourne by a mere $20,000 in 2013, it now trails the Victorian capital by nearly $200,000. In fact, the median house price in Darwin fell to a new low of $480,000 in the June quarter, 7% lower than it was during the same time last year.
In contrast, Hobart posted growth of 6.8% in the past year, with the median house price reaching $355,000.
While the Tasmanian capital maintains its position at the bottom of the Australian capital city price ranking by a significant margin, its 2.8% growth in June was the highest of any city in Australia.
According to Tony Collidge, president of the Real Estate Institute of Tasmania (REIT), while the island state has long been an attractive option for retirees, its burgeoning tourism industry and the growing presence of Chinese investors, have also contributed to property growth.
"We have had the most number of tourists ever in the past 12 months, which creates employment, and with the tourism boom, we've had significant growth in AirBnB," Collidge said. "We still continue to get a lot of retirees because of the affordability, but AirBnB in particular has taken quite a chunk out of [the] short to medium term rental market, so we are now getting unprecedented rents, which makes it a high yielding market for investors."
Conditions in Darwin are less rosy. The apartment market, in particular, suffered a dramatic year-on-year fall, with a drop in the median of 10.5%.
Quentin Kilian, CEO of the Real Estate Institute of the Northern Territory (REINT), said even he was surprised by how the dramatic the plunge was. "I saw [apartment] stock around the $300,000 mark. I can't remember the last time I saw that," he said. "Anyone buying now will be getting healthy growth on their property when the market turns … and trust me it will."