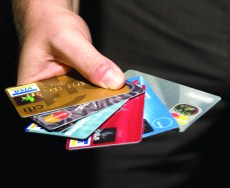 Retail or co-branded credit cards only really offer good value for a very select group of customers. Most shoppers would be much better off with a low-rate credit card. Here are the top three reasons why store cards don't give you very good bang for your buck at all.
The annual fee for store credit cards is quite hefty, up to almost $100. One exception is the Coles Group Source MasterCard which doesn't charge an annual fee.
You'd have to spend thousands of dollars each year to generate enough store credit card rewards to recoup the cost of the annual fee.
Don't forget the sky-high interest rates, either. Co-branded card rates hover around a whopping 20%, which is almost double the rate of your typical low-rate credit card.
Most of the store credit cards YMM looked at have a points system in place, where you need to spend big to earn your any rewards. There are also big differences between cards in terms of the amount you need to spend to redeem a comparable reward .
For example, to redeem a $100 gift card using an American Express David Jones card, you would need to spend at least $4,433; on a Myer Visa card, expect to spend $10,000 before you can receive the same "reward".
Also, consider how easy it is to earn points - can you do so by going to the stores you already shop at, or are you limited to certain retailers?
The Citi-BP MasterCard is the only card that doesn't run on points, but rather has a cash-back system. The idea is that you receive 0.5% of what you spend credited back to your credit card account.
Store credit cards
Company
Product
Rate
Annual Fee
Spend needed to recoup annual fee
Points earned per $1 spend
Spend needed for $100 gift card
Balance transfer facility
American Express
David Jones Card
20.74%
$99
$4,433 - $13,299

3 (major supermarkets, petrol stations),

2 (David Jones),

1 (any purchase)

$4,433 - $13,300
No
Citi
BP Mastercard
20.89%
$89
$17,800

5% cashback on first $600 spent,

0.5% cash back on purchases up to $5,000 a month

$20,000 spend required for $100 cashback
Yes
GE Money
Coles Group Source Mastercard
20.49%
$0
$0
1 FlyBuys point for every $1 spent at Coles group stores
$12,500
Yes
GE Money
Myer Visa Card
20.69%
$49
$4,900
1 point up to 2,000 per month
$10,000
Yes
Woolworths
Everyday Money Mastercard
19.84%
$49
$1,633 - $4,900

3 (Woolworths Select and Mobile products)

2 (Woolworths group supermarkets and petrol stations)

1 (other purchases)

$6,666-$20,000
Yes
Low-rate credit cards are a better alternative to retail or co-branded cards for most people. Unless you are a big spender and never pay interest on your credit card you would be far better off with one of these three best-value low-rate credit cards:
Low-rate credit cards

| | | | |
| --- | --- | --- | --- |
| Company | Card name | Interest rate | Annual fee |
| Bankwest | Breeze Mastercard | 10.99% ongoing | $69 |
| St George | Vertigo | 13.24% ongoing | $55 |
| Bank of Melbourne | Vertigo | 13.24% ongoing | $55 |
Bankwest's Breeze MasterCard clearly stands out with a 10.99% interest rate, although St George and Bank of Melbourne's Vertigo cards also have a relatively decent rate of 13.24%.
The Your Money Mag verdict? Ditch the store credit card and take the low-rate route instead.
-- By Stephanie Hanna