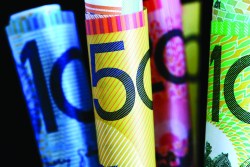 Official interest rates look set to fall. While the banks may not be willing to pass those cuts on to borrowers, you can rest assured interest rates will be cut on term deposits, online accounts and savings accounts.
YMO has shopped around to find the best interest rate deals available for your savings right now. Don't waste time, take advantage of these attractive rates before the Reserve Bank meets in February, just in case there's a rate tumble.
Looking for a guaranteed return?
The following high-rate savings accounts, term deposits and online accounts are your best bets for amounts up to $250,000 as they're with Authorised Deposit Taking Institutions (ADIs) so your savings are guaranteed by the Commonwealth Government for amounts up to $250,000.
1.
Bankwest Regular Saver: 6.5%. Deposit $50-$500 per month, no withdrawals. Maximum monthly deposit is $500 and the balance must be transferred into a linked account after one year
2.
RAMs Saver: 6.12%. For current RAMs home loan borrowers
3.
UBank 180-day term deposit: 6.11%. Remember shorter-term rates look attractive at the moment but an interest-rate decrease within the 180 day term could mean you have to renew at a lower rate.
4.
Suncorp 180-day term deposit: 6.05%
5.
Investec 180-day term deposit: 6.01%
6.
UBank USaver: 6.01%. Must set up a $200 automatic monthly savings plan. And there's USaver Reach if you're aged 18-29 you don't need to set up a savings plan to earn the bonus rate
7.
ANZ Online Saver: get in quick with this one. Open an account before 31 january and receive 6% until 31 May
8.
Bank of Melbourne Maxi Saver: 6% bonus rate for four months
9.
ING Direct 180-day term deposit: 6%
10.
ING Direct Savings Maximiser 5.85% for four months
11.
ME Bank Super Members' 180-day term deposit: 5.8%
12.
Citibank Online Saver: 5.8% for six months
13.
Investec 1 year term deposit for amounts over $10,000, 5.55%
14.
Rabo Direct 1 year term deposit for $1,000 to $1m: 5.5%
15.
Nab iSaver: 5.5% for four months
16.
UBank 1 year term deposit for $1,000 or more: 5.41%
17.
St George Sense: 5.1% no end date
Happy to take on a bit more risk?
If you're prepared to take on a bit more investment risk there are places where you can earn a higher interest rate than government-guaranteed bank deposits. But there are risks involved. Some fixed-income investments are unrated, so the risk involved has not been assessed by an independent agency. Read prospectuses carefully before investing and check whether a fixed-income offer complies with ASICs investment benchmarks.
18.
Provident Capital Fixed Term Investment: 9.55% interest over five years paid at maturity
19.
Provident Capital Fixed Term Investment: 8.05% interest over one year paid at maturity
20.
FIIG Direct Bonds: if you have more than $50,000 to invest you can earn a regular income at 8% pa investing in corporate bonds through the FIIG Direct Bonds product
21.
ANGAS Securities: unrated debenture, 8% pa
-- By Jackie Pearson