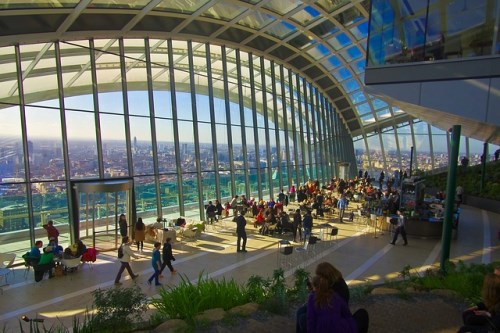 Gone are the days when the average apartment rooftop was an ugly jumble of air-conditioning units, lift equipment, and middle-aged people sunbathing.
As cities become more congested, apartment developers are offering ever more unique amenities to satisfy the demands of occupants. Buildings in cities are far afield as Singapore and New York City now offer transparent "sky pools," running tracks hundreds of metres above the ground, as well as rooftop eateries and bars offering panoramic views.
Many established and emerging apartment developments in Sydney are cashing in on the trend, boasting massive cinema screens, pools, landscaped gardens, entertainment lounges, BBQs, and glass bridges between buildings, among other eye-popping amenities.
"Useable rooftop gardens are adding real value to occupiers in the city, providing oases and relaxation spaces that people did not previously believe was achievable," Justin Brown, chairman of CBRE Residential Projects, told the Domain Group. "If the gardens are private and/or have iconic views (which is a rarity), they add significant value and future capital appreciation."
Listed here are two developments that could be among the top rooftop spaces in Sydney:
The Burcham, Rosebery
The Burcham, which is still under construction, is remarkable for its commitment to energy-efficiency and sustainability. One of the four roofs over this 99-apartment development will host a communal space with an oversized outdoor cinema screen. The cinema will be equipped with comfy seating and blue-tooth headsets, so that the sound doesn't disturb others.
The communal space will also boast lush landscaping by celebrity gardener Jamie Durie; an edible garden with herbs, spices, and chilies for tenants to pick and add to their food; and a BBQ area for cookouts and parties.
"Apartments are getting smaller in the inner city, so it's important that people can go outside rather than [entertain] at home," said Ed Horton, director of developers at The Stable Group. "We like to create spaces where people can engage as a community, and which is an extension of their private space."
The other three roofs of the development will host solar panels, which will send power to a common grid. This would have the effect of lowering residents' electric bills by at least 20%.
8 Phillip Street, Parramatta
Move over, Singapore and Shanghai: Sydney will soon have its very own apartment rooftop bar. Studio 54 will be built on the rooftop of a Woods Bagot-designed apartment/hotel building in Parramatta.
"Our MD wanted to raise the bar, so to speak, and thought this was a great location, in the heart of eat street in the middle of the entertainment strip in Parramatta," said Aras Labutis, development manager at Coronation Property. "We thought this would be a perfect addition to the food and beverage offerings we'll have on lower levels, as well as the mid-level communal area with a pool, gym, outdoor terrace and multi-purpose room."