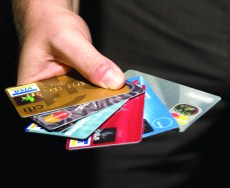 There's a big chance a store credit card will cost you far more in interest and fees than you'll ever get back in rewards.
These cards charge high interest rates and high annual fees, and you actually get very few rewards.
In most cases it would represent better value for money to get a card with a lower interest rate and annual fee and pay cash for the retail rewards.
To be truly 'rewarded' by a value-for-money store card, you need to spend big but be in a position where you can avoid paying hefty interest by paying down your balance to zero within each interest-free period.
Look at the following key issues to work out if a store credit card is worthwhile for you.
Annual fees
The annual fee for co-branded cards ranges from $49 for a Woolworths Everyday Money MasterCard, to $295 for a Hilton-Macquarie Platinum card. In most cases, you have to spend thousands each year just to get enough rewards to re-coup the annual fee.
High interest rates
No co-branded card offers a reward that makes paying much interest worthwhile. Co-branded cards charge around 20% interest, compared to around 10% for the lowest-rate normal credit cards on the market.
If you have an average ongoing debt balance of $5,000, you will payaround $1,000 a year in interest instead of $500 – an extra $500 dollars.
Where and how fast you can earn points
Providers generally give double or triple points for spending at their own stores, but the better ones also give multiple points at a variety of other outlets. The American Express David Jones card allows you to earn three points per dollar at any supermarket or petrol station, unlike the Woolworths
Everyday Money MasterCard, which only give maximum points for shopping at Woolworthsstores.
How many points you need to get rewards
Reward points are not equal units of measure. Their real value can only be assessed by finding out how much free stuff you can redeem them for. The easiest way to compare rewards across different co-branded cards is to look at how many points you need to redeem to get a $100 store voucher.
If you had a Myer Visa card, you would need 10,000 credits to be eligible for a $100 voucher. To rack up 10,000 credits you must spend at least $3,333 at Myer (or a minimum of $10,000 outside Myer).
The point? Look beyond the thousands of points that the ads promise and work out what those points really mean.
Would you benefit in any of these scenarios?
SCENARIO 1:
•
Ongoing debt balance: $5,000
Best co-branded card: Woolworths Everyday Money MasterCard
Annual fee: $49
Extra interest paid: $443
Rewards earned: $180
Verdict: Don't bother
SCENARIO 2:
•
Ongoing debt balance: $0
Best co-branded card: David Jones American Express Card
Annual fee: $99
Extra interest paid: $0
Rewards earned: $541
Verdict: Go for it
SCENARIO 3:
•
Ongoing debt balance: $9,000
Best co-branded card: David Jones American Express Card
Annual fee: $99
Extra interest paid: $886
Rewards earned: $1,353
Verdict: Marginal
Assumptions
•
'Extra interest paid' is calculated by subtracting interest charged by lowest-rate standard credit card (the BankWest Breeze MasterCard, which is currently 10.99%) from interest charged by named co-branded card
•
'Rewards earned' calculation based on points earned and number of points needed for $100 cash voucher