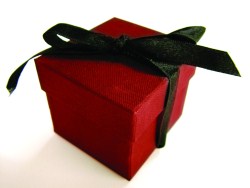 Oh no! Christmas is only 12 weeks away. The major shopping centres are almost ready to put their decorations up. Do you have a financial plan to get you through the festive season?
If your answer is "credit card", you're obviously a last-minute Christmas planner. If you think further ahead, bashing the plastic (and passing out when the January statement arrives) is not the only way to cope with Christmas.
Perhaps you've left it too late for a fiscally-responsible Christmas 2011 so let's look ahead to 2012. Your Money Magazine looks at some savvy ways to get ahead for next Christmas.
The best approach is to have a savings plan and the secret to success is to earn the best rate of interest available on the money you put aside.
Should you open a Christmas Club Account?
Remember Christmas Club Accounts? They've been around for decades. They're mainly offered by credit unions and buildings societies and some even come with old-fashioned passbooks.
The main advantage is that you can organise to deposit a set amount each month (or out of each pay) and you can't access the money until November (or late October in some cases).
That means you'll know with certainty how much money you will have available for Chrissy shopping at the end of the year.
They're a great budgeting tool but out of the 28 Christmas Club accounts compared by Your Money Magazine, the average interest rate paid was a paltry 1.5%.
Best Christmas Club rate: 4% POLICE CREDIT UNION
Worst Christmas Club rate: 0% QUEENSLANDERS CU
Or are there better rates on offer?
Online savings accounts are streets ahead in terms of interest rates, especially if you take advantage of some of the current introductory rates on offer.
Surely a higher rate is a good enough incentive to leave the money alone until November. If not, go for an account that has a built-in savings incentive. Here are the best deals currently on offer:
Virgin Saver: 6.51% four-month variable intro rate and a $50 bonus
RaboDirect: 6.51% four-month intro rate
UBank USaver: 6.51% includes bonus 0.5% if you use a savings plan
Citibank Online Saver: 6.40% intro rate for six months
Why settle for a low rate when you can earn a few dollars more and spread a bit more festive cheer next year?