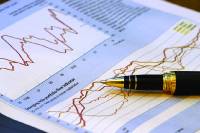 The downgrade of the American credit rating could result in the Reserve Bank keeping interest rates on hold, because it is likely to reinforce investment in Australian shares.
With the cut to the US government's AAA credit rating, economists say the downgrade is unlikely to cause major negative effects for Australian banks.
Your Money Magaine advises:
Australian investors are unlikely to suffer direct impact from the US downgrade
A total of just $US12 billion is held US government bonds by Australian investors

RBA is now likely to keep interest rates on hold for at least the rest of the year

US downgrade has greatly reduced the risk of a hike in Australian interest rates and could put rate cuts back on the agenda.
RBS economist Kieran Davies said Australia is one of just a few economies with a AAA rating, and is in little danger of losing that rating.
"The US downgrade is likely to reinforce the ongoing buying of Australian debt by overseas investors, which supports the Australian dollar," Davies said.
The IMF has added to the upbeat verdict on Australia's economic outlook, with treasurer Wayne Swan saying that Australians have every reason to remain calm.