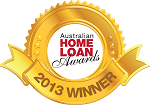 ME Bank
The first ever Your Mortgage Magazine Australian Home Loan Awards has resulted in a comprehensive victory for ME Bank; the inaugural Lender of the Year.
Your Mortgage magazine would like to extend hearty congratulations to the team at ME Bank, who have worked extremely hard to get its star on the rise. ME Bank has transformed in the past year, after being set up by industry super funds in 1994, the bank has recently embarked on a significant strategy to build its capability and raise its profile as a provider of genuinely fairer banking products and services from the wider borrowing market; and then emerging as ME Bank, a market-leading lender that is demanding Australian homeowners sit up and take notice.
And what better way to accomplish this feat than with superior products across the board?
Winning four overall gold medals, four bank category gold medals and three bank category silver medals; ME Bank displayed enough quality in multiple fields to stroll across the line as both Bank of the Year and Lender of the Year.
The four overall gold medals that ME Bank received were for bank of the year, best speed of approval, best variable rate home loans and best loan for refinancing. State Custodians was the only other lender to receive more than one overall gold medal, after topping the field in best customer service and best loan for property investors.
For ME Bank CEO Jamie McPhee, the key is to pay close attention to the needs of customers and make sure products are fair and transparent.
"We treat customers with respect, take the time to listen to their needs, and go to them rather than make them come to us," McPheesays.
"Our mobile bankers visit customers in their homes and our workplace bankers provide banking in workplaces across Australia."
McPhee says ME Bank's products are straightforward, affordable and are a genuinely fairer alternative to many other banks.
Australian Home Loan Awards