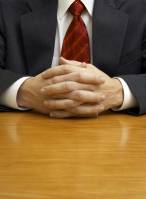 The strong Australian economy is the envy of the world at the moment, with a global recession unlikely to hurt us like it would the US and Europe.
Despite the Reserve Bank (RBA) announcing that interest rates are set to remain at 4.75% just last week, the Commonwealth bank and Westpac have announced they are slashing fixed rate home loans.
The Commonwealth Bank is slashing up to 60 basis points off its fixed rate home loans, and Westpac cutting its three-year fixed rate by 20 basis points to 6.79 per cent.
Westpac subsidiary St George also announced reductions in its two and three-year fixed loans of 20 basis points, following on from fixed rate cuts of as much as 30 basis points last month.
The moves by the major banks is the latest sign that financial markets now firmly expect the next move in interest rates to be down. Anticipation is mounting that the RBA may hold an emergency session to cut interest rates in response to the global financial market turmoil.
Ross McEwan, CBA retail banking executive, said their bank is trying to offer certainty in volatile times.
"Many customers want certainty with their home loan repayments and we are pleased to take a lead and offer customers that peace of mind," he said in a statement.
However, NAB's chief economist Alan Oster said the main reason for the cuts is that banks are getting cheaper loans from financial markets, and are cutting their rates because they fully expect the Reserve Bank to cut rates by around 75 basis points.
Related Stories
Thinking about refinancing your home loan?