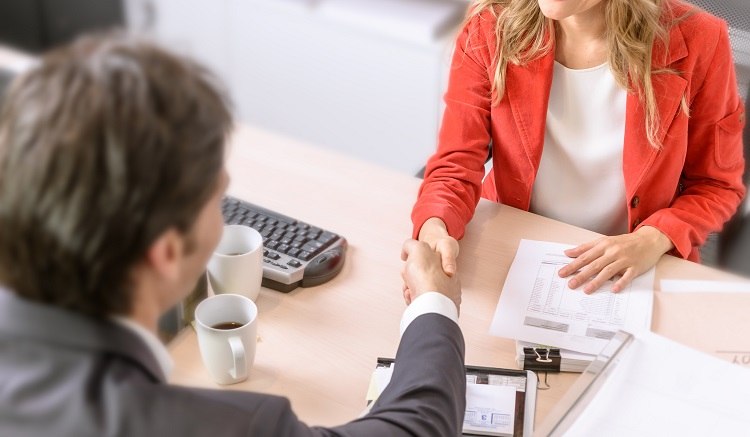 With the Coalition's unexpected election victory, the government's promise to assist first-home buyers with a new deposit scheme will undoubtedly be a go starting next year — but how will the scheme change the game for Australian homebuyers?
Prime Minister Scott Morrison pledged to help first-home buyers climb the property ladder with the First Home Loan Deposit Scheme, a $500m-policy that would help 10,000 beneficiaries annually by reducing the amount of the deposit needed to take on a home loan.
Who are eligible to take part in the scheme?
The government has yet to release the details on how to apply for the scheme, but it plans to roll out the program by January 2020. If you are a single first-home buyer who earns up to $125,000 annually, you are eligible for this benefit. Couples taking home up to $200,000 yearly are also allowed to apply.
How will the scheme help you?
Beneficiaries of the scheme will be able to receive support from the government for the life of their loans or until their mortgage is refinanced. The scheme will be helpful for those who are struggling to meet the 20% deposit hurdle imposed by most banks.
It will save you time coming up with a deposit.
According to a 2017 UBS study, it would take a decade for a typical first-home buyer to save even a 10% deposit for a $400,000. The study assumed the borrower to be earning around $80,000 a year, setting aside $4,000 annually to save for a home.
A more recent study, this time by CoreLogic, showed that buyers in costlier cities like Sydney would take twice as long to save a 20% deposit than those in other capital cities like Perth and Adelaide.
With the First Home Loan Deposit Scheme, buyers will be able to trim their time saving for a down payment given that they need to meet a smaller deposit requirement. The table below shows the difference between 5% and 20% deposit requirements in each capital city. The median dwelling values are based on CoreLogic's April 2019 median housing data.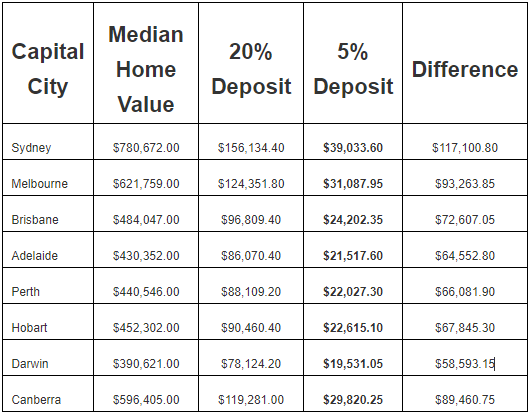 It will help you avoid paying lenders mortgage insurance.
Lenders have different borrowing rules, but the deposit requirement is almost universal amongst all. If you do not meet the minimum deposit requirement of at least 20%, you will be subject to pay the lenders' mortgage insurance (LMI).
LMI is a policy that protects lenders from financial loss brought about by the inability of the borrowers to service their loans. The cost of LMI depends on the borrowers' loan-to-value ratios (LVR). The higher the LVR, the more likely banks will consider your home loan risky. To mitigate this risk, banks will charge you higher premiums.
Using the same data from CoreLogic, the table below shows the cost of LMI in each capital city based on LVRs and the amount of home-loan down payment. These are computed using Your Mortgage's Lenders Mortgage Insurance Calculator. These results are based on a loan term of 30 years.
As you can see above, you would need to settle a $33,000 mortgage insurance payment in Sydney if you have an LVR of 95%. This means that the cost of your loan's LMI is almost equal to your 5% deposit at $39,000. Under the scheme, you would not shoulder these costs — the government will underwrite your home loan and will serve as your guarantor.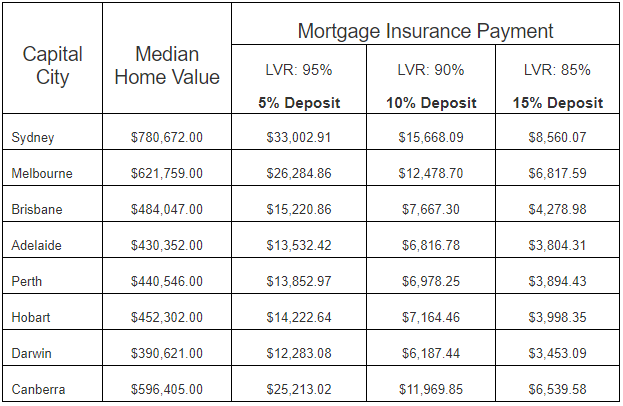 Talk to an expert today
While the scheme is fairly easy to understand, it is still important to talk to qualified professionals to better help you with your concerns. Even with this deposit scheme, thorough research and a careful strategy are still a must for you to avoid making mistakes in achieving your homeownership goals. Your Mortgage can help you connect with experts near your area — talk to a home loan specialist for free by clicking on this link.