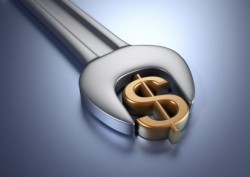 Australia's biggest ever class action could result in payment of over $200 million to consumers who've paid 'illegal' bank fees.
Compensation firm Maurice Blackburn has brought the class action against ANZ, CBA, Westpac, Citibank, NAB, St George and Bank of SA in an effort to recover an estimated $216 million for fees charged against 160,500 customers from seven banks.
"These class actions against unfair bank fees are the largest in Australia's history... and there's every chance they will continue to grow," Maurice Blackburn senior associate, Paul Gillett says.
The bank fees class actions are being funded by IMF (Australia) Ltd on a no-win, no-fee basis for participants. Registrations are still open so if you've paid late penalty fees that you think may have been unfair and potentially illegal, you can register through the IMF subsidiary Financial Redress at financialredress.com.au.
In September 2010 Maurice Blackburn filed its first bank fees class action against ANZ. In December 2011, Justice Gordon in the Federal Court found that late payment fees are capable of being penalties but found in favour of the ANZ for other bank fees.
Following that decision Maurice Blackburn has filed an appeal against the Federal Court's adverse findings and has filed subsequent class actions against the other banks listed.
The fees being "tested" by these class actions are substantial one-off penalties for late payments, including
| | |
| --- | --- |
| Bank | Range of fees charged |
| ANZ | $20-$45 |
| Bank SA | $20-$45 |
| Citibank | $7-$50 |
| CBA | $20-$35 |
| NAB | $25-$60 |
| St George | $20-$45 |
| Westpac | $30-$50 |
Banks charged Australian households $652 million in exception fees in the FY2010, down from $1.3bn in FY2008. They earned a total of $4.2bn in fees (not just exception fees) from households in 2010, a substantial contribution to their combined profits of $24 bn for FY 2011.
-- By Jackie Pearson