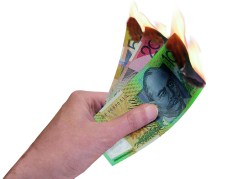 Is there a way you can keep buying everything you want but still save money? With very little effort you can get up to 80% off your purchases. How, you ask?
Spending comes at a price. Eat out a couple of times a week, pick up essentials from the supermarket and chuck in a late-night movie – and there goes the money you were supposed to put aside for a house deposit.
But while we all want to save more, we don't want to stop spending. It's a stalemate which costs us more and more every day.
Your Money Magazine has a simple solution which will allow you to buy everything you always do but save hundreds. Here's YMM's list of things you should never pay full price for.
1. Holidays
We all enjoy a good holiday. But the fun stops when you're welcomed home at the front door by a gaping hole in your savings or a lengthy credit card bill.
But do not fear: the internet is here to save you. Before you fly or book hotels, make sure you take a look at comparison websites such as www.wotif.com and www.webjet.com.au. These handy tools let you compare prices across the board so you can find the best deal.
If you're feeling a little more adventurous, sites such as Secret Hotels on www.lastminute.com.au offer up to 70% off on 4 and 5 star hotels! The catch? While you're given the rating and rough location, you don't find out the name of the hotel until you book.
If you're flexible with your travel dates you can also cash in on going during the shoulder or off-peak seasons which traditionally have much lower rates!
2. Eating
Eating out can be very expensive, and even more so if you're paying for another person as well! But the good thing is that in order to get your attention, restaurants are offering tantalising offers which mean you'll almost never have to pay full price again!
There are a number of food-devoted voucher sites like www.livingsocial.com.au and www.groupon.com.au have a database of discounts available categorised by area, cuisine and expense. Whether it's half-price wine, a percentage off your total bill or even free meals, you are guaranteed to find a good deal.
And next time you go grocery shopping take a quick look at advertisements on the back of your docket – you may spot a bargain!
3. Going to the movies
Another unexplored bubble of potential savings! The slump in mid-week cinema-goers and the increase in home movie downloads has resulted in amazing deals to get you back in front of the big screen. All you need to do is take advantage of them.
Cheaper Tuesdays are universal across the board, but you can get further savings if you sign up for loyalty cards. In most cases these are free, and members can accumulate points which go towards free tickets!
And if you're feeling particularly sneaky, turn to the web again! People will generally post up discount and voucher codes on forums, so all you need to do is a quick Google search and you can save a couple more dollars when you book tickets online.
4. Clothes

Online shopping is not only more convenient, but you can save hundreds! Specialist web-based clothing sites such as www.asos.com.au and www.forever21.com don't have to rent out retail space so they can pass on savings to their customers! Ranging from cheap casual to expensive formal clothing, there is any number of styles available for any budget. And in some cases, shipping is free!
If you want to save even more, why not take a look at recycled clothing? The ClothingExchange has frequent clothes swap events where, for a small fee, you can swap of your unwanted garments or accessories for good-quality second-hand items. The swapping isn't moderated by value, which means you could technically swap a basic top for a Gucci dress!
5. Electrical goods
It's all about haggling. Remember the advertised price is not the final price! Retailers such as Harvey Norman and Dick Smith have a massive margin of profit added on to the cost price, so there's always room for some negotiating. Look around at different retailers and if you find the same thing for cheaper go back to your first retailer and tell them. They'll almost definitely offer you a price that's even better. There's a reason why the slogan for Bing Lee is 'everything is negotiable'!
You can also check out clearance warehouses where retailers like Retravision and 2nds World sell seconds which are in perfect working order. Sure they might have a small scratch here and there, but you could potentially get up to 40-50% off on a brand-new product.
If you want to cut out the middleman entirely, why not look online? If you don't like the sound of buying something without seeing it in person, take a trip down to your local store, choose what you want, and then order it online instead! You can save hundreds by buying directly from the manufacturer.
And if you're in a super-saving mood, you can buy good quality second-hand electrical goods. Whether it's from the Trading Post or established shops like ElectroSeconds, you are guaranteed to grab a bargain.
6. Essentials
If you're in it to win it, turn to generic brand items! You can save hundreds off your shopping bills simply buy picking up products which have less flashy packaging and better value.
Let's take a look at a quick example. In Coles, you would pay $38 for a Steggles 3.8kg turkey but only $18.99 for Coles Brand 3.4kg turkey. That's half price!
Usually the quality of the products will be similar, so don't feel like you're doing yourself a disservice by choosing generic.
-- By Tara Waniganayaka