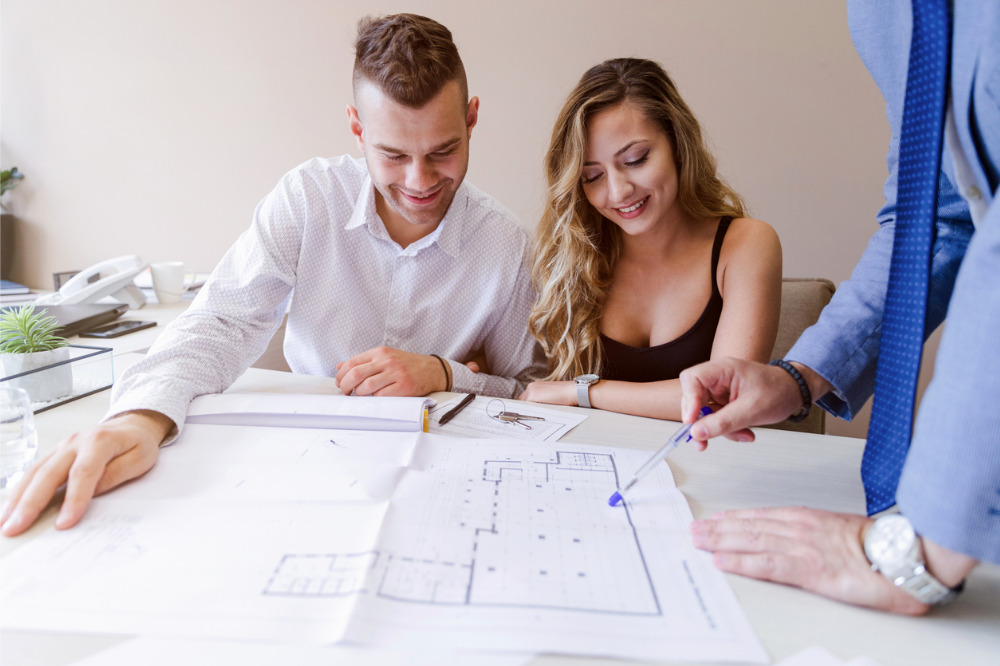 One of the first choices you need to make once you decide to get on the property ladder is whether to purchase an established home or build a new one. Both options offer their share of benefits and the answer to which one is best depends on what your priorities are.
So, which method best fits your lifestyle and financial situation? Let's dig deeper.
Building a new home: The pros
Buyers who choose to construct a new home from scratch can access several unique benefits not available to those purchasing an existing property. These include:
1. Freedom to customise
One major benefit of building your own home is that it gives you more room for customisation. You get to decide how many bedrooms and bathrooms there are, the size of your kitchen, or where the fireplace goes. You can even add unique features – such as a home cinema or an indoor pool – if your funding permits.
You can also choose to use higher-quality materials, so there will be less maintenance issues in the future. If you go for energy-efficient options, you may be able to save thousands of dollars in electricity and gas costs down the line.
2. Access to state-based grants
Buyers building their first home are eligible for the First Home Owners Grant (FHOG). The amount varies depending on the state or territory, but it can certainly help boost your funding. Additionally, you will only need to pay stamp duty for the land – not the house – saving you thousands of dollars. These concessions are also available for those purchasing a home that no one has lived in before.
3. Avoiding the bidding war
Constructing your own home means you do not have to spend time at auctions, negotiating with agents, or doing building inspections. Generally, you will also encounter less competition when buying a block of land compared to when you are purchasing an existing house.
Building a new home: The cons
Despite these benefits, building a new home also has its drawbacks. These include:
1. Taking a long time to finish
Constructing a home takes time and delays due to unforeseen circumstances – such as inclement weather, poor workmanship, or late council approvals – can make your wait even longer. To address this, some lenders implement timeframes for completion, ranging from six to 24 months.
2. The complexity of a construction loan
A construction loan works differently and is more complicated than a standard home loan – which is often used when purchasing an established home – for several reasons. For new builds, assessing the value of the property can be more challenging as the house does not yet exist. This situation may also result in higher interest rates.
Buying an established home: The pros
Home buyers are often drawn to established homes because of the convenience these properties provide. Here are some of the benefits of purchasing an existing house:
1. Faster process
Purchasing an existing property often entails a simpler and more efficient process and can take as little as a few weeks from the signing of the conditional contract to the settlement date. This means you can move to your new home in less time.
2. Prime location
Existing homes tend to be closer to a city centre, where lifestyle amenities such as public transport, schools, and employment opportunities are more readily accessible. Additionally, these houses often sit on a larger parcel of land – meaning they have nice-sized yards – compared to new builds.
3. Simpler financing
Standard home loans often require a 20% deposit, but most lenders will allow you to borrow up to 95% of the property's value provided that you pay lenders mortgage insurance. Traditional home loans also require lesser paperwork and offer more features and options than construction loans.
Buying an established home: The cons
Purchasing an existing property may allow you to move in faster but there are certain things you need to consider like:
1. Signs of wear and tear
If you plan on buying an existing home – especially those where the owners have lived in for years – expect to find some signs of wear and tear. These may set you back anywhere from a few hundred to several thousands of dollars, depending on the type of repair needed.
Established properties may also lack some of the home features you are looking for. Older houses, for instance, may have heating and electrical systems that are not up to par with the current energy-efficiency standards.
2. State-based grants
State governments have stringent requirements for those who want to access the FHOG. Buyers of established homes need to choose brand new properties – meaning no has lived there before – to be able to access the grant. If you are buying an older property, you will not be eligible for the grant, even if it is your first home.
Is it cheaper to build or buy a home?
It is difficult to categorically tell whether building a home or buying an established property costs less because of the many factors that are involved. Financial comparison sites Finder and Savings did a comprehensive comparison of each method using different parameters and the results were mixed.
You can check out the tables below to have a clear picture of how much each option can cost you. The first table contains the average home prices in all capital cities based on CoreLogic's latest data while the second table shows how much it costs to build a standard double-brick home in five state capitals based on BuildSearch's most recent data. The last table contains the median lot prices in Australia based on the Urban Development Institute of Australia's (UDIA) 2020 State of the Land report.
Average house prices
| | |
| --- | --- |
| Metro area | Median value |
| Sydney | $879,299 |
| Melbourne | $692,162 |
| Brisbane | $527,862 |
| Adelaide | $473,170 |
| Perth | $484,280 |
| Hobart | $523,932 |
| Darwin | $426,215 |
| Canberra | $686,524 |
| Combined capitals | $659,731 |
| Combined regional | $428,919 |
| National | $583,157 |
Source: CoreLogic (31 January 2021)
Projected new home costs
| | | | |
| --- | --- | --- | --- |
| Metro area | Basic Finish $ P/Sqm | Medium Finish $ P/Sqm | Luxury Custom $ P/Sqm |
| Sydney | $1,190 | $1,290 | $3,100 |
| Melbourne | $1,180 | $1,330 | $2,900 |
| Brisbane | $1,210 | $1,390 | $3,000 |
| Adelaide | $900 | $,1030 | $2,750 |
| Perth | $950 | $1,010 | $2,600 |
Source: BuildSearch.com.au
Average prices of vacant land
| | |
| --- | --- |
| Metro area | Median value |
| Sydney | $459,000 |
| Melbourne | $327,000 |
| Brisbane | $327,000 |
| Adelaide | $180,000 |
| Perth | $217,000 |
| ACT | $423,000 |
| National average | $322,000 |
Source: UDIA State of Land Report 2020
However, these numbers are not the only ones you need to consider when deciding whether to buy or build a new home.
Purchasing an established home, for example, involves several upfront costs – including deposit, loan establishment fees, stamp duty connection fees, and legal charges – and ongoing costs – including mortgage repayments, land tax, council rates, body corporate fees, and maintenance costs.
Meanwhile, when building a home, you also need to factor in site costs, soil and contour testing, flooring, landscaping, land registration, and interest repayments for your construction loan.
Another important thing to remember is that the decision to build or buy a home goes beyond just costs. It also involves the quality of life you want for you and your family. An established home can give you the benefit of convenience while constructing your own home allows you to add personalised features that can improve your lifestyle. These benefits, unlike costs, are not easily quantifiable.