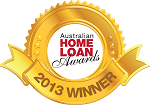 Loans.com.au
The removal of the federal first home owner grant (FHOG) from the incentive sheets of the majority of states and territories means the quality of mortgage products is more important than ever for first homebuyers.
It started in NSW, where the $7,000 FHOG was replaced by a $15,000 incentive for people to buy new properties. Of course, this ruled out a large portion of first homeowners, as anyone who lives in NSW, and especially Sydney will know, brand new homes are anything but cheap.
At Your Mortgage, we class an average first homebuyer as a single or couple, looking for a relatively small mortgage with which to buy an inexpensive property in a major city.
First homebuyers will generally need a mortgage product that is relatively low on rates, allows for an LVR of at least 90%, is low on establishment and ongoing fees, and is flexible as possible with repayment options.
Loans.com.au has received plenty of positive feedback from first homebuyers that have borrowed using its Dream Loan Express offering. This product offers winning features such as a maximum LVR of 95%, a 100% redraw offset facility, and a $0 loan application fee.
It offers competitive interest rates, which depend on your LVR. Those borrowing less than 60% are treated to a comparison rate of 5.38%; loans between 60% and 80% get a 5.53% comparison rate; and the more common first homebuyer range of 80–95% LVR is offered a 5.63% comparison rate.
The Dream Loan Express product also comes with an option to pay interest-only for up to 10 years, 24/7 access to the account via online and telephone, and free RP Data property reports with enquiries. There are no annual fees, you are permitted unlimited free redraws and online transactions, up to five free splits, and five free ATM transactions per month.
Being an online-based lender, it is no mean feat for Loans.com.au to take out the best loan for first homebuyers category; it shows the lender has found the right balance of fees, rates, product features and customer care.
"We put the customer at the centre of everything and have the KISS theory: keep it simple and save," says Michael Corkill, Loans.com.au corporate and public affairs manager.
"It can be quite daunting buying your first home as it's the single biggest financial transaction you are likely to enter into and the jargon can be quite confusing. We train our lending specialists to explain the ins and outs of a home loan with customers; not to rush through calls to get the deal, but spend the time to understand what they want and answer their questions and concerns. Each customer has one lending specialist taking care of them, so they can phone or email at any time to ask questions."
The other gold medal winners were Heritage Bank in the banks category; and Greater Building Society for credit unions.