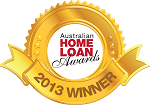 MyRate
You will have heard plenty of debate over whether or not to fix your home loan rates in recent times. It is a tantalising prospect to find a low rate and lock it in so that you know what you have to pay for the next 1–10 years and can budget accordingly. However, when you do so, you will often have to forfeit some of the other features that come with standard variable home loans, such as unlimited additional repayments, which can minimise your loan costs significantly if used wisely.
You also run the risk of the standard variable rate dipping below the cost of your fixed rate for the period that you are locked in. The good news is that fixed rates are currently about as low as they usually get, before trending back upwards towards their long-term average of closer to 7.5%. Competition is therefore hot among lenders to deliver a product that you are happy to commit to.
MyRate takes the overall prize for fixed rates; and a look at the products shows a good range of rates, periods and other loan features. A one-year fix gets you a comparison rate of 5.65%; while the other options include two years (5.62%); three years (5.70%); four years (5.78%) and five years (5.87%).
These attractive rates are complemented by features that include fee-free applications, valuations, legal, settlement, ongoing and deferred establishment, a flexible loan range of $100,000–$2m; 95% LVR and up to $10,000 a year in additional repayments. Each loan also has an interest-only option for up to five years.
The other gold winners included AMP among the banks and Newcastle Permanent for credit unions.
AMP's fixed rates include a oneyear comparison rate of 6.15%; two years (6.08%); three years (6.02%) and five years (6.13%). Fixed rate loans from AMP are eligible to be rolled into a Professional Package once the fixed term expires and are available for loans at a maximum LVR of 90%. You can choose an interestonly option for up to five years; make additional repayments up to $10,000 a year; and have monthly account fees waived.
Newcastle Permanent offers a oneyear fixed rate loan with an amazing headline rate of 4.99%, but the comparison rate of 6.16% suggests extra costs will enter the scene after the fixed period expires. Fixed rate terms include one, two, three, four, five, seven and 10 years; the products attract no ongoing fees; and have maximum LVRs of 95%.