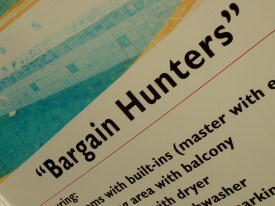 JFK's father, Joe Kennedy, is attributed with the quote "when the going gets tough the tough get going". Change it around a bit and you could say "when the going gets tough the tough make money".
If you're good with your money, have no or low debts and you're even "cashed up", right now is literally a golden opportunity to take advantage of economic uncertainty, maximise your savings and make money.
It's called a buyer's market and it's all about rewarding your own hard work by taking advantage of a good deal when you can. Consider it doing your bit for the local and global economy.
Here are some of the best bargain marketplaces around right now.
Retail
It makes sense to start your bargain hunter's journey at Westfield, after all, 'tis the season to be spending.
Grocery prices are officially lower than they were at the start of the year so it's a great time to stock up your freezer.


The major retailers (Myer, Kmart, Big W, Target, Harvey Norman) are fighting harder than ever to get your festive season dollars. Toys, electrical goods, game consoles, clothes, shoes, cosmetics, furnishings are all on sale already so if you're a good saver you're perfectly placed to take advantage of some big savings. This is particularly true if you can wait until the post-Christmas sales when already reduced prices will hit the floor. Meanwhile, dare to barter, particularly in stores like Dick Smith and JB Hi Fi. There's no harm is asking, after all and you might be surprised by the outcome
Real estate
We're not proposing you fill the kids' Santa sacks with the deeds to a house but if you have money to invest and you're prepared to wait for long-term returns, real estate prices around the country have just fallen for the 10th consecutive month.
Stressed and forced sales are on the increase. That means more people are under mortgage stress and are either deciding to sell before they get in over their heads or the bank is making that decision for them.
This can mean houses are currently being sold for tens and even hundreds of thousands of dollars less than they were on the market for a few years from now. If you have a high level of home equity, a stable and regular income and a good credit record, this may be a great time to buy an investment property.
Don't procrastinate for too long though. The major banks are already jittery about the fact they're going to have to get funding from the international marketplace by March next year and that may make loans harder to come by, even with interest rates going down. Have a browse at some online real estate sites, looking up the previous sales history of particular properties can give you an indication of how much the market has fallen. It's a buyer's delight.
Shares
What's happening to the Aussie share market? One day it's up and the next it's down again. It's certainly not the time to be rushing in to buy speculative stocks with poor track records for growth and dividends but there are some huge blue chip bargains available if you know where to look.
The Value Investing approach is best at the moment, that's the philosophy behind success stories like Warren Buffett. The idea is that you look at the value of the company behind the share. If it has low borrowing levels, is well managed, competitive in its marketplace, and a good track record of earnings growth with strong signs it will continue to earn and grow, a company is worth putting on your "buy" list.
The next step is to look at is whether its share price represents good value in comparison with its underlying worth. If its price is currently cheap, it's worth buying. There are some excellent sources of information available about value investing and myclime.com.au is a great starting point.
Metals
As world banks scramble to buy gold, there are lesser-known metals that represent great investment value right now. The 'lesser' metals: silver, platinum and palladium are much cheaper than gold but probably still have more intrinsic value than several major currencies at the moment. If you've never thought about investing in physical assets like platinum and palladium, perhaps it's time to take a closer look.
For more information and tips on buying precious metals check out: Could silver be the new gold?