Over the past 12 months, residential brokers dealing with the banks have experienced a series of shocks. Banks – including a major bank – have not only raised rates but actually pulled out of lending to certain groups altogether. In response, brokers have simply taken their clients elsewhere, to any other of the 20-plus institutions on their lending panel.
Commercial brokers aren't so lucky. A commercial broker looking to finance a new developer in 2017 will find most of the banks' doors closed. Those that remain open may demand LVRs and presale targets that make projects uneconomical. This is not a freak occurrence; since APRA reviewed commercial lending in 2016, banks have been looking to limit or even reduce their commercial property exposure. Our Top 10 Commercial Brokers report celebrates those brokers who somehow managed to make the deal stick. These brokers built on decades of working with and in the banks; others mobilised coalitions of non-banks and some scoured the world for private funders, ranging from American merchant banks to Arabian royalty. Deals still get done and broker loan volumes – now averaging $169m – will continue to increase.
Not all commercial brokers have been hit by APRA's restrictions, thanks to careful diversification of their businesses, or their success in dominating niches. While developer specialists feature heavily in these reports due to the large sums they deal with, our Top 10 includes brokers financing everything from motels to pharmacy equipment. Some are lone operators; others run businesses offering project management and financial advice, or that even have their own mortgage warehouses.
In fact, with banks continuing to withhold funding, some commercial brokers are becoming commercial lenders. As one commercial broker explained, if you understand the assets and understand the risk, why not? Gradually, elite commercial brokers are laying a trail that elite residential brokers may one day need to follow.
None of our surveys would happen without the support of brokers, aggregators and our sponsors. We'd like to thank all those who applied and all the aggregators who verified them, whether or not those brokers appear in this list.
A MESSAGE FROM OUR SPONSOR
On behalf of the Westpac team we would like to officially congratulate you on being a 2017 MPA Top 10 Commercial Broker– the industry's most recognised and highly sought-after broking honour for commercial brokers in Australia. This prestigious list seeks to recognise the highest-performing brokers, and highlights the contributions you have made to our industry and within your own communities.
This citation recognises your efforts and underpins how you continue to adapt and evolve to overcome the challenges, in order to provide a strong value proposition to your clients. This represents the industry's traditional values of quality, professionalism, integrity, versatility, passion and innovation. You are a driving force of economic prosperity in today's Australian economy; you continue to foster growth in customer confidence, providing advice and support to fulfil the dreams and aspirations of your clients.
We also acknowledge the ongoing recognition of your colleagues. Professional brokers at the front line are essential to the industry's continued evolution. By highlighting the industry's top performers, you have set a benchmark of excellence that can be celebrated, respected, and ultimately provide a culture and set of practices that we can all aspire towards.
As Westpac celebrates our 200th year serving Australia in our third century in 2017, our deep, strong partnership journey continues– to grow and help make commercial broker businesses stronger. We will always connect you to the best of Westpac, supporting you through the journey to help your clients realise their dreams and financial goals sooner.
Again, we would like to congratulate you on making this year's MPA Top 10 Commercial Brokers list and on stretching yourself to achieve nothing less than excellence.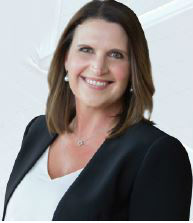 Janelle Pearce
National head of Westpac Commercial Introducers