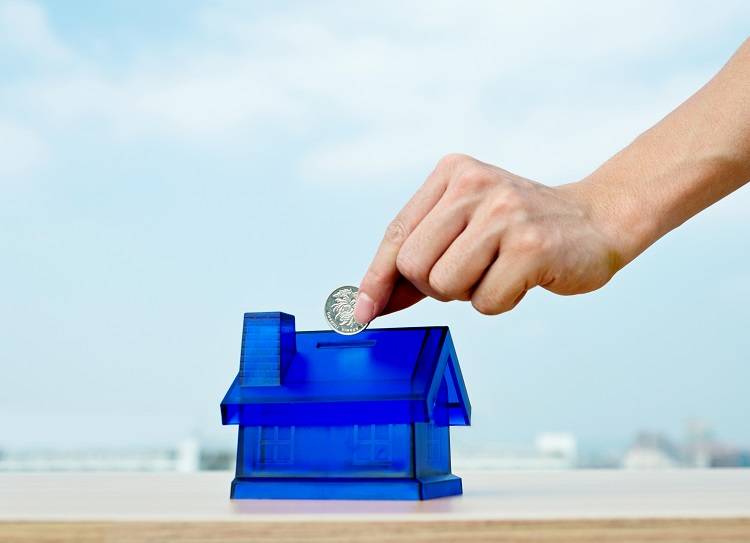 Out of all investment vehicles, property seems to be one of the safest and straightforward – demand will always be there and the risks are relatively limited. However, you may need to shell out a huge amount to cover a large deposit and monthly repayments.
Affordability is one of the main concerns you have to consider if you plan to take on an investment property. For outside observers, property investment is daunting, and it surely can be if you're not ready.
The fact of the matter is, it is easy to enter the property investment market if you have two things: a firm grasp on your goals and you have the finances available to support it.
For those planning to invest in property, here are some tips to help you determine if you can already afford to enter this viable space.
Sort out your priorities
Money is a finite resource and when it comes to investment, you have to be sure of your priorities. Just like when you are planning to buy a car or another significant investment, you need to be able to strategize your budget.
More often than not, taking on a property investment entails sacrifice – it could mean less shopping for new clothes, a tightly controlled gas budget for your car, or fewer out of town trips. If you know for sure you can stick to spending your hard-earned money on something that does not provide instant gratification, property investment may be for you.
You also have to at least see a rough sketch of your long-term financial strategy. Do you think an investment property would sit well with your priorities for the longer term? Are you planning to keep it to take advantage of rental yields, or are you going to sell the property in five to ten years? These questions will help you determine if the property market is the best investment vehicle for your needs.
Determine how much you initially need
As a rule of thumb, it is good to save a 20% deposit for whatever property you are eyeing. If you can pay down at least 20% of the cost upfront, you will not have to pay lenders' mortgage insurance (LMI), which is coverage for the lender in case you cannot pay off your loan. Definitely make sure to check with your lender how much is the minimum deposit you can make to avoid paying additional for the insurance premium.
Because most lenders allow you to borrow up to 95% of the value of the property, this means you can pay as little as 5% for your deposit. Considering this and the CoreLogic's latest median home values, let's see how much you're going to need as a deposit in each state capital: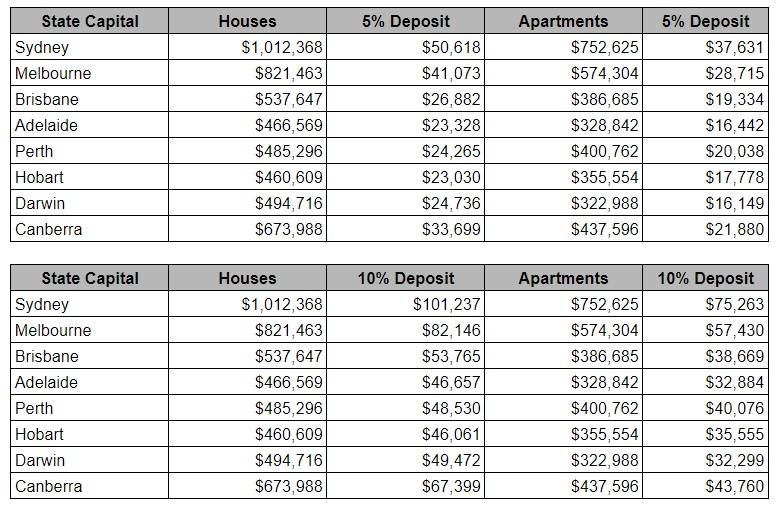 Median Home Price and Deposit
It is important to take note that these are median home values from capital cities where prices are higher compared to regional areas. If you think your budget will not cover a home in these areas, you can investigate regional areas or suburbs where prices are a bit lower.
Check if you are eligible for grants
State grants are usually available for first home buyers. However, most of the states require applicants to reside and live in the property for at least six months from within the twelve months after the purchase. If you plan to live in the property first and eventually put it up for rent, check out this link for a list of grants in each state, as well as some stamp duty concessions available for first home buyers.
Assess your financial health
This is a crucial step in determining whether you can afford to purchase a property investment. You have to be able to evaluate how much your monthly outgoings will increase if you have to pay mortgage repayments for your investment property. Don't think about the possible rental income first, just focus on how your monthly budget will be affected by your investment.
When approving your mortgage application, banks take into consideration your debt-to-income ratio to ascertain how much you will be able to repay, and subsequently how much they will lend you. For some banks, the benchmark is around 30% debt-to-income ratio. This means if you have a monthly income of $6,500, your lender will assume that you could allocate $1,950 for your regular repayments.
There are many debt-to-income ratio calculators online to help you determine how much of your monthly income you should allocate for repayments. Mortgage products are not cheap so expect your outgoings to go up significantly.
To make sure you are left with nothing for your food and other essential spendings, list and compute all of your expenses and then subtract that number from your monthly income after tax. Is the difference enough to get you through monthly repayments? Perhaps, you need to cut some expenses like a gym membership you rarely use or the monthly magazine subscription you are too busy to enjoy. You may have to learn to prioritise and let go of things that could be weighing you down.
Another important thing: it is advisable to settle outstanding debts first before investing. You should also avoid using credit cards for purchases unless it is necessary to do so. Here's a tip: if you have unpaid loans with different interest rates, consult with your bank and ask if you can consolidate them into a single rate.
Consult with an expert
Nascent property investors are prone to risks due to miscalculations, wrong assumptions, and insufficient knowledge. While you can do your own research, nothing beats reaching out to qualified financial advisers to help you gauge your capacity to invest. It will require professional fees, but the convenience and assurance will surely be worth your penny.
Now if you think you are confident and knowledgeable enough to get purchase an investment property you can certainly go it alone –just make sure that you keep your expert's number in case things go haywire.