Comparing: Shares including Dividends; Property including Rent; and a low interest Bank Account
In any investment, diversification is very important, as is the timing of when you get into a market. Both have a major effect on the results you achieve. This article investigates the incremental impact of earnings – in the form of dividends and rents – and how these factors need to be considered when evaluating investment options. High dividend yielding shares have been 'in fashion' lately, so it is timely to compare these to property gains where rent is included.
Rents and capital growth for property, or dividends and capital growth for shares, are otherwise known as 'accumulation' investments: the effect of both capital gains and earnings on the outcome of an investment. In this article we compare the accumulation index of the Australian Share Market (ASX) to the RP Data – Rismark property accumulation index and to a bank deposit earning the 90 Day Bank Bill short term interest rate. We don't take into account tax, holding costs, or the cost of acquiring and disposing of shares or property.
The three investment approaches we compare are:
The ASX All Ords accumulation index which tracks capital growth of shares if gross dividends are included;
The RP Data – Riskmark Daily Home Value Index (with accumulation), which tracks capital growth of Australian property including gross rental yields;
An index built off the 90 Day Bank Bill short term interest rate, which factors in the approximate 'risk free' returns available from say a low interest bank account.
Over 20 years from August 1993 how do the three compare?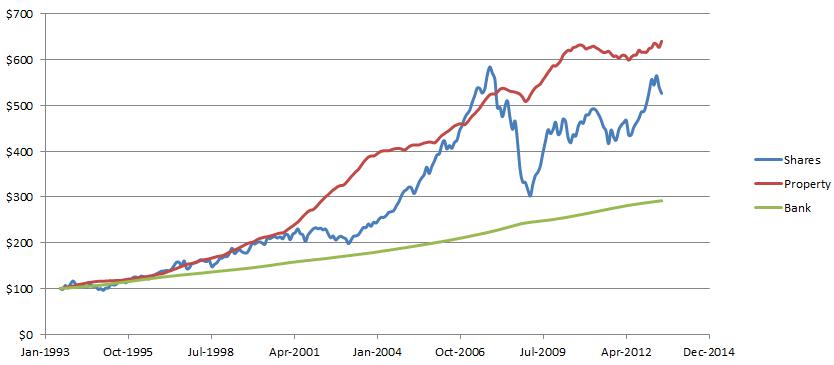 The chart shows that $100 invested in August 1993 would, by May 2013, have grown to :
$291.82 in the 'risk free' bank account;
$526.41 using shares with dividends reinvested; and
$640.29 buying property with rental income reinvested in more property
So ignoring other costs, property did very well over the 20 year period.
The chart also shows the differences in volatility between the three different investment approaches. Volatility is both 'scary' for an investor as it shows the degree to which their wealth fluctuates, and it has a real impact on when an investor can sell their investment for a profit. A more volatile investment therefore needs to return more to compensate the investor for the additional risk and for the more frequent periods in which they cannot sell their investment without making a loss.
The low interest bank deposit is predictably very stable, although the interest paid does vary from 2.8% to 8.37% in the 20 year period. It has no period in which the investor loses money between any 2 months.
The stock market is the most volatile, with the greatest gain in a year being 47% in the year to February 2010, and the greatest loss being 42% in the year to November 2008. This volatility explains somewhat the "wild ride" that investors in the stock market feel watching their investments fluctuate day by day. Individual shares are in most cases even more volatile than this index. Over the twenty year period there were 152 months where the stock market was up, and 86 months where it was down.
Property is less volatile than the stock market, but obviously more volatile than a bank deposit. The greatest annual growth for Australian property over this 20 year period was 25% in the year to April 2002, and the greatest loss was 4% in the year to May 2012.
Some individual capital cities, and postcodes and suburbs saw bigger losses than this and even larger losses if the effect of rental is taken out. Over the twenty year period there were 199 months where the property market was up and 39 where it was down. Property is, though, less liquid than a bank deposit or shares. A property cannot be sold as quickly to extract funds if needed.
Let's summarise our findings to compare these different assets side by side:
| | | | |
| --- | --- | --- | --- |
| | Bank | Property | Shares |
| Total Return Aug 1993 – May 2013 ($100 becomes) | $291.82 | $640.29 | $526.41 |
| Biggest Gain in a Year | +8% (gain) | +25% (gain) | +47% (gain) |
| Biggest Loss in a Year | +3% (gain) | -4% (loss) | -42% (loss) |
| Months where profit made (month on month gain) | 238 | 199 | 152 |
| Months where loss made (month on month loss) | 0 | 39 | 86 |
| Liquidity – time to extract funds | Typically immediate | Months | Less than a week |
How did we go over other timeframes that are shorter than the last twenty years?
Over the ten years from August 2003 to May 2013 the comparison is: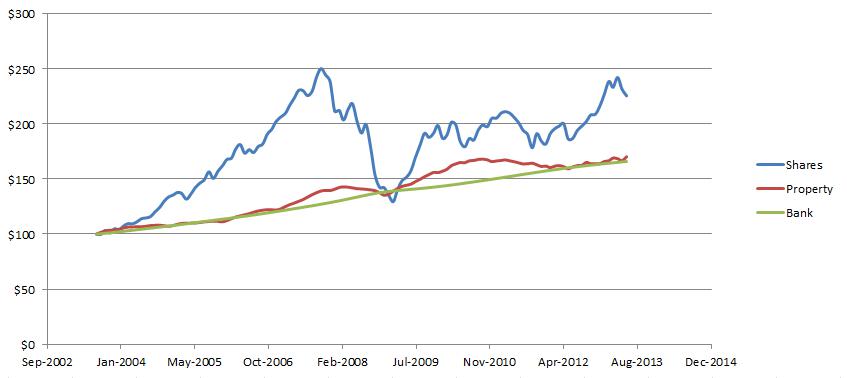 This period is the period immediately after the property boom of 2003 and demonstrates that shares outperformed both property and bank deposits over this period. Again though there was a lot of volatility in shares, showing a huge drop when the GFC hit.
Over these ten years, $100 invested in shares would have grown to $225.59, while in property $100 would have grown to $170.32 and in the bank $100 would have grown to $166.01.
A similar table for this latest decade highlights the growth and volatility in the stock market:
| | | | |
| --- | --- | --- | --- |
| | Bank | Property | Shares |
| Total Return Aug 2003 – May 2013 ($100 becomes) | $166.01 | $170.32 | $225.59 |
| Biggest Gain in a Year | +8% (gain) | 20% (gain) | +47% (gain) |
| Biggest Loss in a Year | +3% (gain) | -4% (loss) | -42% (loss) |
| Months where profit made (month on month) | 119 | 83 | 77 |
| Months where loss made (month on month) | 0 | 36 | 42 |
So in 42 months over the period, an investor in the stock market would be down month on month, and for 77 months they would be up.
And the period in the ten years before this? The preceding ten year period highlights the large boom in property prices in the few years post the year 2000: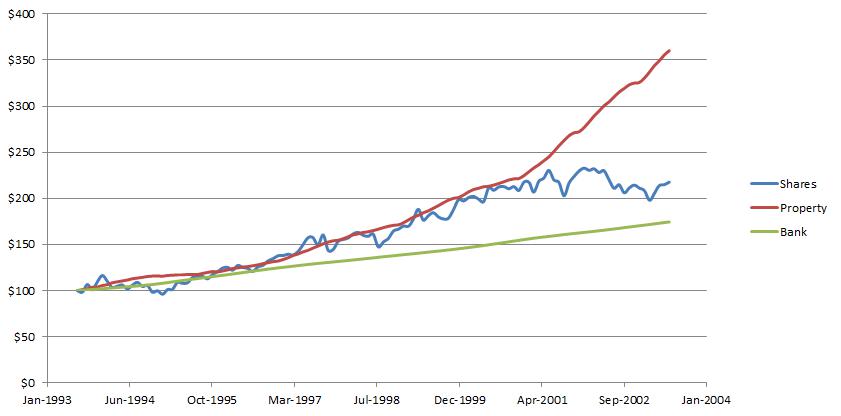 $100 invested in property would have grown to $355.33, while in the stock market it would have grown to $214.86 and in the bank $173.72. So property outperformed over this timeframe.
What have we learnt looking at the different investment returns, including rents / dividends, over different timeframes?
That:
There is a wide range in volatility of different investments, with the low interest bank deposit being the least volatile but returning the least too.
That property investment is less volatile than share investment and can have similar, and sometimes greater, returns.
That the timing of your entry and exit into the market has an effect on your return. Investments in which a regular 'drip feed' of funds into the market can help to mitigate this timing risk
That both shares and property should be seen as medium to long term investments to mitigate the effect of volatility and, especially for property, the time it takes to extract funds
That the effect of rentals and dividends helps to reduce the downside risks of an asset while providing an income stream.
A final recommendation that stands out is highlighted by the property market being a lot flatter than the share market over the last ten years. Diversification of investment, where both shares and property are held, can help to maintain growth while mitigating downside risk.
---

Greg joined RP Data in 2010 where he took over the management of the group's data product division. One of the his early highlights was leading the team that delivered the services behind the popular CommBank Property Guide; an iPhone App that allows people to search property information anywhere and at any time. In addition, he patented the popular rpdata Media Maximiser product with a colleague, which correlates advertising spend to selling success for real estate agents – a first in Australia, and a first in the world.
Greg Dickason is no newcomer to writing – not only a blog expert, he a part time author where along with his 9 year old daughter, produced a children's booked entitled: Duckrat - Stuff You Wanna Know – a perfect read for 9 year old girls!
Greg Dickason holds an MBA from USQ (University of Southern Qld), specialising in Finance and Business. He also holds a Master of Engineering Degree from The University of Cape Town.