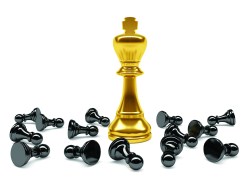 Is it time to get out of shares and take shelter in less volatile investments like cash and fixed interests?
Non-bank lender, FirstMac, thinks so. It's encouraging investors to actively consider fixed-income investments as an alternative to shares.
FirstMac has released a fixed-income managed fund to give small investors access to Australian bonds with attractive yields. Such investments have traditionally only been available to big institutional investors, in wholesale funds with high entry levels or through high-fee investment platforms.
The new fund, called Hi Livez is promising to deliver yields that are superior to bank deposit products.
According to FirstMac, Hi Livez is not a mortgage fund. It is described as a low- to medium-risk, fixed income investment that will invest in highly-rated, medium-term Australian bonds and short-term money market securities.
The fund aims to return 8.3% per annum after management fees, which are capped at 0.6%. It has no entry or exit fees and the Responsible Entity is Perpetual Trust Services.
Fund manager FirstMac is an experienced asset-backed securities issuer and cash manager. It is 100% Australian owned with 30 years of experience in offering home and investment property loans.
An 8.3% return sounds attractive, the fees look low when compared with some other managed funds and the decision to focus on highly-rated Australian bonds is sound.
Chief investment officer for the fund, James Austin (who is also chief financial officer for FirstMax) explains that the fund will exclusively invest in Residential Mortgage Backed Securities (RMBS) that will be rated at least single-A but most assets will be predominantly AA-rated.
"The key point is that this is not a mortgage fund, it invests in bonds, which are tradeable on a secondary market," says Austin.
He says Australia's secondary market is one of the only to continue trading throughout the GFC.
Some of the RMBS acquired by the fund will be issued by FirstMac but Austin says they are also looking to invest in the regional banks, which have regular RMBS issues, including Suncorp, the Bank of Queensland and larger mutuals (credit unions and building societies).
FirstMac already operates a series of wholesale RMBS that it issues exclusively to large institutional investors like the Macquarie Group and industry super funds. Austin says the new fund will be FirstMac's first foray into retail investment products, an area it intends to expand.
"We are also looking to build a strategic alliance with a bank to offer term deposits, transaction products and so on," he says.
Shop around for best fixed-income deal
Expect to see a growing number of new "fixed interest or fixed income products hit the market in the months ahead as fund managers and investment product providers seek opportunities to tap into investor demand for safe havens.
There are already other opportunities available to earn high yields, including some shares. So before you pull out of equities and jump on the fixed income bandwagon, consider the following:
RMBS were involved in the mortgage crisis in the US but Austin explains that those RMBS were sub-prime and all the RMBS the fund will invest in are prime mortgage securities. He says default levels continue to be low in Australia and no Australian issuer of RMBS has ever lost money
Some stocks, in spite of what happens to their short-term share price, pay excellent and consistent dividends on a par with (or greater than 8.3% pa). For example, financial stocks (banks, insurers etc) have relatively stable returns with attractive valuations and dividend yields. Average dividend yields in this sector are 8% and as high as 10% when topped up with franking credits
It is true that bank deposit products (online savings accounts, term deposits, high-interest savings accounts) are currently paying in the range of five through to 6.5% at the moment but don't forget Approved Deposit-taking Institutions (ADIs, which includes banks and mutuals) now have a government guarantee on deposits up to $250,000 which is not the case with managed funds
Some management fees on fixed-interest managed funds are as low as 0.35% so shop around for the right mix of investment philosophy, promised returns and fees. Austin does point out that the fund doesn't have entry or exit fees, which makes it cheaper than many competing products
You can buy government bonds with as little as $10000 and some corporate bonds are accessible to some investors with minimum investments of around $50,000.
What should you do?
So what's the answer? Should you stick with your current mix of shares, property and cash or is it time to abandon the stock market altogether? There are differing opinions about whether equities will continue to deliver the long-term returns they have managed to generate for over 100 years.
Some pundits say the current period of volatility is nothing unusual and that all share investors should be prepared for years of negative returns, at least every five years.
Others say the state of the world's finances is a complete game changer and may mean that markets will not continue to perform as they always have.
Add a proliferation of "black box" or automated trading to the mix and there are some valid reasons for small investors to be feeling a bit uncertain about the current state of play on Australian and world equity markets.
Bryan Taylor, executive chairman of Plan B Wealth Management, says it's essential to "tune out the media and other market 'noise' and steer clear of emotional decisions. In short, avoid distractions and keep to your plan".
"Even the most mainstream of media now assigns multiple daily segments to discussing the very latest in stock movements, currency values, interest rates and more," says Taylor. He says this short-term chatter is nothing more than a distraction if you have the right structures and strategies in place.
"The answer to the big question many investors are now facing – should I stay or should I go – is far easier when guided by a strategy which articulates clear and achievable goals and addresses the real risks, not the distractions.
"In too many cases we see people bumbling along without ever having started where they should – at the beginning. And the beginning is deciding exactly what your aims are, making sure they are realistic and achievable and then setting in place a clear path to achieving them."