This is a pretty important read for anyone considering the option of fixing their home loan interest rate.
The RBA has recently acted to influence the Australian dollar downwards by decreasing the RBA cash rate.
A lower Aussie dollar helps exporters to compete on the world stage. However, a low Aussie dollar also makes it more expensive to import goods. Importing is something we do a lot of in Australia and rising costs will eventually feed into rising inflation.
When inflation starts to head near the 3% mark the RBA usually responds by increasing the cash rate to dampen down the economy.
As you can see from the ASX chart below, the futures market is putting its money on a "more than likely" drop in the cash rate of 0.25% by August and a possible further drop of 0.25% by the end of this year.
However, it is interesting to note that ASX chart then shows an increase in the RBA cash rate from the middle of next year.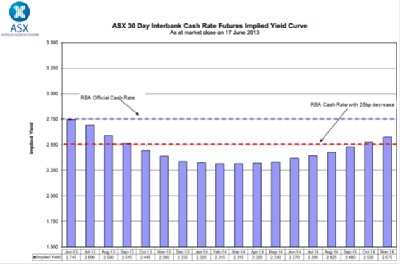 The Smartline chart below puts this cash prediction into a home loan perspective.
The average basic variable home loan rate across the major banks is approximately 5.35% p.a. at the moment.
A further two 0.25% cuts could see our variable home loan rates sitting at 4.85% p.a. (even lower for larger loans).
What is proving to be even more interesting is the current 3 year fixed rate average of only 5.01% p.a..
This fixed rate is already 0.35% p.a. lower than the average variable rate, and this is the precise reason why around a third of our clients are taking out fixed rate loans at the moment.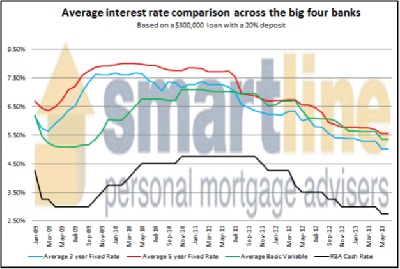 A further Smartline chart (below) demonstrates just how low our current rates are from a longer term perspective.
Between 1999 and now (14 years) this major bank's basic variable interest rate has averaged out at 6.85% p.a..
This same major bank is currently offering 4.99% for a 3 year fixed rate. A saving of 1.86% p.a. on the 14 year variable average or approximately $5,500 p.a. on a $300,000 mortgage. Plenty of food for thought.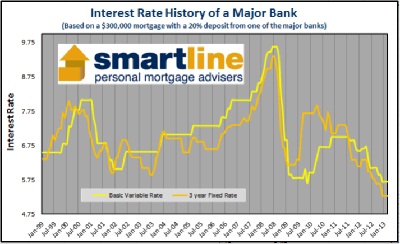 One thing you must do before jumping into a fixed rate product is seek advice from a credit advisor (preferably us). Early exit fees still apply to fixed rate loans and these fees can be "substantial".
---

Property is Catherine Lezer's passion. She owns nine properties of her own and has a fundamental understanding of how the property market works.
"I've bought some great properties and some 'bad' properties, and even the bad ones have made me money," says Catherine. "Property is the most reliable way to make money that I know!"
"I've purchased, sold, tendered, offered, negotiated, won and lost at auction, developed and renovated so I understand what happens out there in the market," she adds. "Being able to help other people finance property is an added bonus for me."
Originally from Perth and now based in Sydney, Catherine joined Smartline in 1999 with over 25 years of banking experience and qualifications include a Bachelor of Business and an MBA. Catherine has helped hundreds of clients finance houses, semis, terraces and apartments, with the majority of her business coming from word of mouth referrals.